John le Carre to receive German honour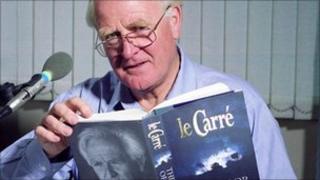 Veteran spy novelist John le Carre is to receive Germany's Goethe Medal in honour of his life's work.
The Goethe-Institut said le Carre - real name David Cornwell - was "Great Britain's most famous German speaker".
More than 300 people from 58 countries have received the medal since it was first presented in 1955.
The medal honours personalities "who have performed outstanding service for the German language and international cultural relations".
According to organisers, le Carre's novels "reflect the global lines of political conflict from the Cold War era to the present day".
"In his spy thrillers.... this master of the political and psychological crime novel condensed Germany's difficult role during the era of the Cold War in his writing."
The Spy who Came in from the Cold, The Tailor of Panama and Tinker, Tailor, Soldier, Spy are a few of the author's many best-sellers.
The 79-year-old's most recent work, Our Kind of Traitor, was published in September 2010.
Earlier this year the author asked to be taken off the Man Booker International Prize shortlist on the grounds that he did not compete for literary prizes.
Polish intellectual Adam Michnik and French theatre director Ariane Mnouchkine will also receive the Goethe Medal this year.