Glee leaps from screen to stage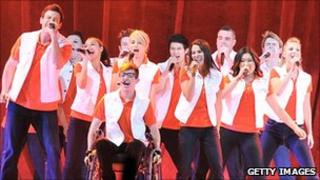 Thousands of screaming fans greeted the cast of Glee as they played the first live date of their UK tour.
Thirteen of the TV programme's young stars appeared at the MEN Arena in Manchester, attempting to recreate the success of the hit US show on stage.
The 15,000-strong crowd saw them perform anthems like Journey's Don't Stop Believin', Lady GaGa's Born This Way and Beyonce's Single Ladies.
The show has toured in North America and will now visit London and Dublin.
Glee has become a TV phenomenon since 2009, with a winning mix of teen comedy and drama, along with glossy song and dance routines performed by the fictional high school show choir.
On stage, the storyline is largely dispensed with, as are the teachers. Mr Schuester and Sue Sylvester only appear in pre-recorded segments on screen.
Instead, the choir members put on a slick concert comprising 20 cover versions, which are all familiar from the TV show.
To the uninitiated, it was little more than a glorified karaoke night.
But to "Gleeks", it was a rare chance to see the stars of their favourite programme jump out of the screen and onto the stage.
The gang appeared to ecstatic cheers to open with the show's signature tune, Don't Stop Believin', with lead vocals sung by Lea Michele, who plays Rachel Berry, and Cory Monteith, AKA Finn Hudson.
They then all took turns in the spotlight, with a fast turnover of solos and duets, mixed with occasional big numbers involving the whole crew.
And those who have only seen the highly produced performances on TV found that the stars can actually cut it live, with both a vocal prowess and an ability to whip up a crowd.
There may have been traces of Autotune and vocal tracks on odd occasions, but they did not rely on those tricks.
Afterwards, most compliments were directed at Amber Riley, who plays Mercedes Jones, who emerged as a true soul diva with her renditions of Aretha Franklin's Ain't No Day and Ike and Tina Turner's River Deep, Mountain High.
Chris Colfer, better known as Kurt Hummel, also proved to be a crowd favourite, while some female fans were pining for more from Puck, played by Mark Salling.
There were some lulls too, and there were enough cast members to spread the workload so they could play to their strengths and hide their frailties. A few did not have much to do.
The song choice gave a clue to Glee's popularity.
With tracks like Florence and the Machine's Dog Days Are Over, Jay-Z's Empire State of Mind and Valerie, made famous by Amy Winehouse, Glee does not just go for the most sickly-sweet choices.
It has a wider appeal than the High School Musical franchise, and the crowd in Manchester ranged from pre-teens to excitable 30-somethings in "I love Glee" T-shirts.
The music has also made Glee a force in the music industry, with the cast breaking Elvis Presley's record for the most US chart hits earlier this year.
The question of whether the actors were in or out of character on stage proved a bit awkward - a couple of exchanges were done in character, but there was no story and they did not all bring their on-screen personalities with them.
'Glittering escapism'
At one point, actor Kevin McHale, who plays disabled character Artie Abrams, lifted himself out of his wheelchair to sing and dance to Safety Dance, originally by Men Without Hats, mirroring a scene in the TV show.
There was also an appearance by the Dalton Warblers, an 11-piece all-male rival choir with blazers and slicked-back hair who, if anything, received louder screams than the main cast.
It was 90 minutes of glittering escapism, with the same feelgood factor that has attracted fans to the TV show.
After the concert, one fan, Chris Garsden, 23, from Bolton, said: "In a time when everyone complains and moans about things, I think it's just pure optimism, and I think it's just what we need.
"And it makes everybody feel good about themselves."
Speaking about the appeal of Glee, Louise Butterley, 28, from Manchester, said: "If you've had a bad day at work and you just want to watch something and not care and have a bit of a sing, Glee's what you want to put on telly.
"That's why everyone loves it."