Cars 2 races to top of US box office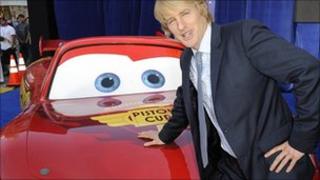 Pixar sequel Cars 2 has sped to the top of the North American box office, despite critics calling it the worst movie produced by the animation studio.
The film, which features the voice of Owen Wilson as racing car Lightning McQueen, took $68m (£42.6m) in its first three days.
Cameron Diaz classroom comedy Bad Teacher opened at two with $31m (£19m).
While last week's number one, superhero film Green Lantern, fell two places to three with $18.4m (£11.5m).
Cars 2 is the 12th consecutive number one film for Pixar since its first movie, Toy Story, in 1995.
The first Cars movie made $60m (£37.5m) in its opening weekend in 2006, but taking into account today's higher admission prices, it sold more tickets than its sequel.
Critics were unkind to the new film, which sees the main characters head to Japan and Europe for Grand Prix races.
The Wall Street Journal said the film "seldom gets beyond mediocrity," while the Chicago Tribune said it was "virtually joke-free".
But Disney, which owns Pixar, said cinema-goers rated the film highly in exit surveys.