Sir Alan Ayckbourn's archive to go online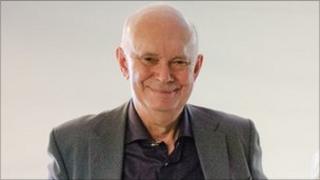 Thousands of items from playwright Sir Alan Ayckbourn's archive will be made available to the public online after being bought by the University of York.
They include manuscripts giving an insight into the creative process of Sir Alan, who wrote Bedroom Farce, The Norman Conquests and Woman in Mind.
Sir Alan said he hoped the material would provide "a fertile ground for ideas and inspire people to write".
It was bought for £240,000 by the university's Borthwick Institute.
The collection spans Sir Alan's 50-year career and includes correspondence with theatre luminaries including Sir Peter Hall, Sir Trevor Nunn, Stephen Sondheim and Harold Pinter.
The playwright said it traced his working methods from the days when he would use handwritten notes to dictate a script to his wife Heather.
He said: "I always like to go to bed with a tidy script and, in the old days, I would trawl back through several pages of typing and blot things out with Tipp-Ex or cover my scripts with arrows.
"I realised that what I was learning from others and from experience was valuable and I wanted to chronicle it. I hope the archive is an extension of this."
'Supremely inventive'
The collection also includes notes on plots, diagrams of relationships between characters, sketches of stage settings and characters' movements.
The archive will be made available online and at the institute as well as being studied by undergraduates and postgraduates at the university.
Professor Mike Cordner, drama professor at York University, described Sir Alan as a "uniquely prolific, radically innovative, and supremely inventive dramatist".
"His work holds a special resonance for Yorkshire and it is entirely appropriate that the archive remains in the county where much of the work was produced," he said.
Funds came from the Heritage Lottery Fund, the Samuel Storey Charitable Trust, the Museums and Libraries Archive and the Friends of the National Libraries.
Sir Alan was artistic director at the Stephen Joseph Theatre in Scarborough for 27 years until 2009. His 75th play, Neighbourhood Watch, will be premiered at the theatre in September.