JK Rowling to appear on Who Do You Think You Are?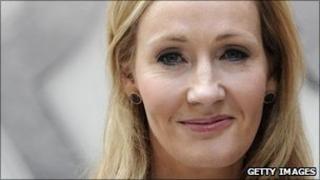 JK Rowling will explore her French roots in the new series of BBC ancestry show Who Do You Think You Are?
The author will visit Edinburgh and London followed by French battlefields and the back streets of Paris.
EastEnder June Brown, who will explore her family's migration from Africa, and her former Albert Square co-star Larry Lamb will also be subjects.
Richard Madeley, tracing his roots back to the founding fathers of the US and Canada, will also appear.
Bee Gee Robin Gibb finds out about an ancestor's role in the 19th Century war with Afghanistan, former athlete Sebastian Coe visits Jamaica and the US.
Comedian Alan Carr is set to discover that his maternal great-grandfather changed his name in mysterious circumstances.
Strictly Come Dancing judge Len Goodman learns of the poverty endured by his ancestors and artist Tracey Emin finds a family tree full of orthodox characters.
Silent Witness star Emilia Fox, meanwhile, discovers that treading the boards is in her blood.
The series is due to air in August.
Pottermore criticism
Meanwhile, JK Rowling has responded to retailers' frustrations over being unable to sell e-books of the Harry Potter series.
The author announced last week the seven books would be released in the format for the first time from October, but they are only available through her Pottermore website.
Retailers have criticised the move, with Waterstone's saying that physical bookshops were "effectively banned" from selling the digital editions.
A Pottermore spokesman said: "The decision to make e-books exclusive to the site was to ensure ease of availability across all reading devices and to the widest possible audience.
"Pottermore is designed to encourage the reading and re-reading of the Harry Potter books in all formats and editions, both print and digital, to both existing and new generations of readers.
"We think this will have a positive effect on those selling physical books as well as on sales of digital ones."