Pressure to increase price of BSkyB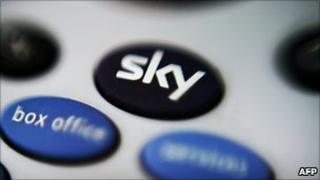 This round-up of Monday's main media stories includes reports on the next stage in the NewsCorp bid for BSkyB.
One of the largest investors in BSkyB is urging News Corporation to pay an extra £4bn to assume total ownership of the company, according to the Sunday Times, says Roy Greenslade in the Guardian. Crispin Odey, founder of Odey Asset Management believes the satellite broadcaster is worth £19bn, so Rupert Murdoch's company would need to pay £11.6bn for the 61% of shares it does not already own. Jeremy Hunt the Culture and Media Secretary is expected this week to give the go-ahead for the takeover, subject to a further consultation.
The Guardian adds News Corporation's James Murdoch has indicated that the takeover of BSkyB is just the beginning of a major expansion over the next decade, arguing that compared with "monolithic" technology and telecoms companies such as Google the global media business is "not big enough". Speaking in Cannes, Murdoch said that while the company may be considered to be a sprawling conglomerate in the media sector, the rise of the technology sector means there are "much, much bigger beasts" posing a threat.
A controversial documentary on the death of Princess Diana - who would have been 50 on Friday - will be launched in Ireland next week, says the Independent. In Britain, it is banned and its director Keith Allen asks: What are they so afraid of?
Hollywood film studios will ask the High Court tomorrow to force BT to block its millions of broadband customers from accessing a filesharing website, in a test case that could make way for a clampdown on internet piracy, reports the Daily Telegraph.
UK ad agencies failed to win any of the most coveted gold awards in the prestigious film category for the second year running at the Cannes Lions International Advertising Festival, reports the Guardian. It prompted the jury to say that British advertising has lost its lustre and is simply "not good enough". The jury awarded the grand prix to Nike's slick World Cup TV ad, "Write The Future", which featured Wayne Rooney, Cristiano Ronaldo, Homer Simpson, Roger Federer and Gabriel Garcia Bernal.
The BBC has published 60 years' worth of audio archive and transcripts of the Reith Lectures. First broadcast in 1948, the lectures were created to advance public understanding of significant issues of the day through high-profile speakers. Past lecturers include the philosopher Bertrand Russell, "father of the atomic bomb" Robert J Oppenheimer and pianist and conductor Daniel Barenboim.
The death of a member of David Cameron's Tory constituency association at the Glastonbury festival is on most of the front pages, as reported in the BBC's newspaper review.