Dame Elizabeth Taylor's belongings to tour the world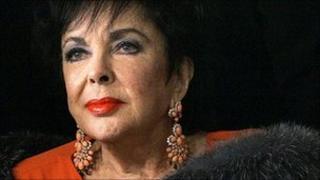 Dame Elizabeth Taylor's collection of jewellery, art and designer clothing will be exhibited around the world, Christie's auction house has announced.
The three-month tour will start in September and include stops in Moscow, London and Dubai before the items are sold at an auction in New York.
Known for her love of diamonds, the actress owned some of the world's most expensive stones.
The Elizabeth Taylor AIDS Foundation will receive proceeds from the exhibit.
The actress, whose film credits included National Velvet, Cleopatra and Who's Afraid of Virginia Woolf? died in Los Angeles earlier this year, aged 79.
Some of her jewels were displayed after she wrote a book in 2003 entitled Elizabeth Taylor: My Love Affair with Jewellery.
Christie's has pledged to devote its entire Rockefeller Center gallery space to the public exhibition and sales, which are expected to draw thousands of visitors.
Marc Porter, from the auction house, said: "The global tour and exhibition of her collection at Christie's will be a window into the world of a true icon, a rare woman who was at once an international film and fashion star, loving mother, successful businesswoman, and generous humanitarian.
"This collection of her many cherished possessions will bring us closer to the essence of Elizabeth Taylor's unique spirit, and promises to inspire admiration, delight and, at times, sheer wonder in all who come to see it."