Madonna movie given awards season release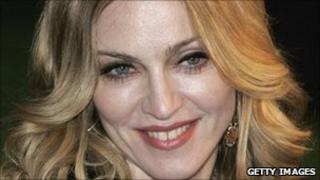 Madonna's film about the life of Wallis Simpson is to be released during film awards season, it has been announced.
Harvey Weinstein, who recently acquired the rights to W.E, said he wanted to give it a "prominent release date."
The film is set for its US premiere in December, putting it in line for Academy Awards consideration.
Abbie Cornish is set to star in the movie, which tells the story of the romance between King Edward VIII and American divorcee Mrs Simpson.
A wider release in the US is planned for the middle of January.
"Madonna beautifully interweaves past and present in W.E," Mr Weinstein said.
"It's a very smart film, and a stunning feature directorial debut. I'm incredibly excited about this movie and I wanted to give it a prominent release date."
Madonna, best known for her pop career, made her directing debut in 2008 with Filth and Wisdom, which she also wrote.
The release was premiered in Berlin, and received some poor reviews from critics, including The Guardian's Peter Bradshaw who branded it "dumb and tacky".