Beyonce conquers UK album chart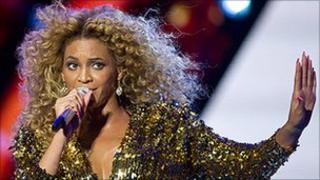 US star Beyonce has claimed pole position in the UK album chart with her new record 4.
The singer, who displaced Lady Gaga from number one, saw previous albums return to the chart in the wake of her performance at Glastonbury last Sunday.
I Am Sasha Fierce, Dangerously In Love and No 1s by Destiny's Child all marched back into the Top 50.
Beyonce's single Best Thing I Never Had entered at three, although Jason Derulo held onto the top spot.
Coldplay, who took to Glastonbury's main stage on Saturday night, saw their 2002 single In My Place creep back into the top 40.
And most recent single Every Tear Drop Is A Waterfall, which clambered back to number 10 from last week's 42.
Their previous album releases also surged into the top 50 on the back of their festival performance, according to the Official Charts Company.
Other acts who benefitted from the "Glastonbury effect" in the week following the festival were Plan B, Noah and the Whale and Mumford and Sons.
U2, who played there for the first time in their career, saw their singles collection U218 rise up the ranks to number 61.
Beyonce has scored the second UK chart-topping album of her career with 4. Her solo debut, Dangerously In Love, hit the pinnacle in 2003.
She also had a 2001 number one album with Destiny's Child and performed a number of their hit singles during her Glastonbury set.