Harry Potter: How do you end a movie franchise?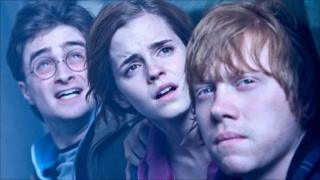 As the final Harry Potter film arrives in cinemas, its producers and directors explain how they steered the world's most successful film franchise to its conclusion. But what does studio Warner Bros have lined up after Potter?
There is a chapter in the Harry Potter and the Deathly Hallows novel called The Seven Potters.
Any book about making of the Harry Potter movies is likely to contain a chapter entitled The Three Davids.
Producers David Barron and David Heyman, and director David Yates have been the triumvirate in creative control of the Harry Potter franchise for the final four films.
Now, as Harry Potter and the Deathly Hallows Part 2 hits cinemas worldwide, they are adjusting to life without JK Rowling's boy wizard.
"It's been an unbelievable journey," says Heyman, whose Heyday Films production company has made the Potter films from day one, with Warner Bros providing the financial muscle.
"I've been doing this for 12 years solid and it's been the gift of all gifts," Heyman adds. "For a producer, that's such stability."
The franchise has conjured up more than $6.4bn (£4bn) worldwide, making it the highest grossing film series, ahead of James Bond and Star Wars.
Industry commentators have observed the Potter films' distinctive tone is a product of Warner Bros decision to defer control of the production to a small British team.
Heyman admits the success of the first film in 2001 made that relationship easier.
"Warners in general are quite tough, as all studios are, before you get to the starting line. Then they let you make the film as long as you work within the budget.
"They have been respectful of us and allowed us to make the films we have. One of my sadnesses is that I will never have it so good again."
He praises the studio's strategy of giving creative control to directors like Alfonso Cuaron (Prisoner of Azkaban) and Christopher Nolan (Batman series).
"They are a film-maker's studio. People with a point of view - that's what they tend to like."
Heyman, who worked in LA during the 1980s for Warner Bros and United Artists, set up Heyday Films in the UK in 1996, and secured the rights to Harry Potter the following year.
Apart from the Harry Potter films, Heyman's producing credits include Yes Man, starring Jim Carrey, science-fiction thriller I Am Legend, with Will Smith, and The Boy in the Striped Pyjamas.
He is currently producing Gravity, starring George Clooney and Sandra Bullock, with Cuaron directing.
"I'm not easing into unemployment yet," says Heyman. "I view it not as the end but the end of the beginning."
Deathly Hallows director David Yates describes Heyman as the "guardian" of JK Rowling's boy wizard on the big screen.
"When I started on Order of the Phoenix, there were areas that David was very sensitive about. We would haggle and negotiate about what I could and couldn't do.
"It got subsequently easier as we built up a relationship of trust over the films until it got to the point where he left me more on my own towards the end."
Producer David Barron, says Yates, would keep him in line on the budget.
"We were a good team and they were always my first audience. I like having something to bounce against. It's healthy.
"You see some directors who become very successful surrounded by people who only say, 'Yes' - and then the standard of the work goes down."
The Merseyside-born director won his first Bafta for BBC period drama The Way We Live Now. In 2003, he directed the drama series State of Play, and the following year Sex Traffic, for which he won another Bafta.
Cauldron of cash
Yates, who directed the last four of the eight Potter films, admits he might go through "a bit of a dip" now the films are over.
"It's been physically and mentally hard to do four films back to back, but it's been fun."
Having been a cauldron of cash for 10 years, how is the end of the Potter films likely to affect Warner Bros?
Producer David Barron is no doubt the studio will survive the loss of its top earner.
"I'm sure they'd like it if there was another one, but they've got plenty of material that I think will be very audience friendly."
He names Christopher Nolan's The Dark Knight Rises, Bryan Singer's Jack the Giant Killer and Tim Burton's Dark Shadows among the candidates.
Also on Warner Bros list of releases for 2012 are Clash of the Titans 2; Clint Eastwood's J Edgar, starring Leonardo DiCaprio; Superman: Man of Steel - and the first of Peter Jackson's Hobbit films.
While Barron doesn't envisage any more Potter novels from JK Rowling - "I think it's a full-stop for her" - he does see the "three Davids" working together again.
"I'd like to make a great psychological thriller, or a Western - if it's good character-driven material we'd all be interested I think."
Barron and Heyman have recently produced thriller Page Eight, written and directed by David Hare and starring Potter regulars Ralph Fiennes and Michael Gambon.
Heyman points out that while the Potter films are finished, the franchise is very much alive.
"They are already talking about where the DVD launch is going to be, and Warners will find a way to repackage in every which way the ultimate collection.
"And I'm sure there will be Potter conventions..."
Harry Potter and the Deathly Hallows Part 2 is out on 15 July