MPs to question Murdochs over hacking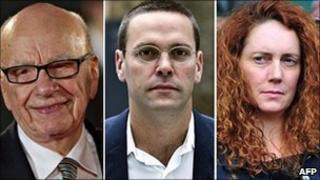 This round-up of Tuesday's main media stories focuses on the latest developments in the phone-hacking scandal.
Rupert and James Murdoch and former News International executive Rebekah Brooks will be quizzed by MPs later about the phone-hacking scandal, reports BBC News. The Murdochs agreed to appear before the Commons media committee after it issued a summons. The MPs have questions over evidence given by Mrs Brooks and Andy Coulson - both ex-News of the World editors - at a hearing in 2003. Two senior police figures who quit over the scandal also face MPs' questions. Assistant Commissioner John Yates quit on Monday over the hiring of former News of the World journalist Neil Wallis as a PR consultant.
The Guardian is among the newspapers to report Sean Hoare, the former News of the World reporter who was the first named journalist to allege that Andy Coulson was aware of phone hacking by his staff, has been found dead. The paper says Mr Hoare, who was dismissed for drink and drugs problems, was said to have been found at his Watford home. Hertfordshire police would not confirm his identity, but said in a statement: "The death is currently being treated as unexplained but not thought to be suspicious. Police investigations into this incident are ongoing."
Daily Mail editor-in-chief Paul Dacre has told a parliamentary committee he had never "countenanced" phone hacking or blagging at his newspaper, reports BBC News. He told the committee both acts were clearly "criminal". Asked if his newspaper had ever published a story based on a hacked message he said: "Absolutely not".
Jeremy Hunt, the culture secretary, has confirmed he is ditching a proposed new national TV network which would have provided a "spine" for a new generation of local services, says the Guardian. Instead he intends to provide bidders with digital terrestrial TV spectrum, to be allocated and managed by a new licensed multiplex company. The paper adds that the DCMS confirmed that £25m in local TV infrastructure costs will be met from the BBC licence fee, with a further £5m of licence fee money to be spent annually for three years on local content.
The BBC will rule that opponents of global warming should be given less coverage than the climate change lobby, says the Daily Mail (quoting a Daily Telegraph report not yet available online). It says the BBC Trust is set to publish a report tomorrow on the Corporation's science output announcing changes to rules on impartiality: "Following the overhaul, programme makers and broadcasters will be compelled to give less prominence to those who oppose the scientific community's majority view. According to the Daily Telegraph, the report draws heavily on an independent review of BBC coverage by Steve Jones, a professor of genetics at University College London. Prof Jones is understood to have cleared the BBC of any suggestion of bias."
The Hour, the BBC's new drama set in a TV newsroom in the late 1950s, begins tonight. It is being compared to the hit American show Mad Men. In the Daily Telegraph, Tom Chivers previews episode one and says it is worthy of the hype.
Pictures of the former News of the World reporter, Sean Hoare - who has been found dead at his home in Watford - feature on a number of front pages, as reported in the BBC newspapers review. The Guardian notes he was the first journalist to allege publicly that Andy Coulson was aware of hacking when he was editor - which he has denied. But it adds that police are not treating the death as suspicious.