Did Ghost The Musical raise critics' spirits?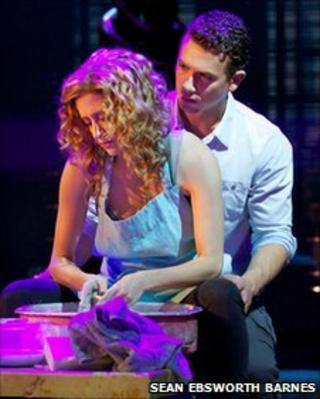 The stage musical version of Hollywood tear-jerker Ghost has opened in London, leaving critics dazzled by the visuals, but wanting more heart and soul.
Ghost The Musical received a standing ovation from its celebrity-heavy audience at its West End gala opening on Tuesday.
The musical, adapted by Bruce Joel Rubin from his Oscar-winning screenplay, had its world premiere at Manchester Opera House in March.
With music co-written by Eurythmics' Dave Stewart, the show stars ex-Coronation Street actor Richard Fleeshman and Canadian actress Caissie Levy, taking on the roles played in the hit 1990 movie by the late Patrick Swayze and Demi Moore.
Ghost tells the story of murdered banker Sam (Fleeshman) who is trapped in the afterlife trying to communicate with his girlfriend Molly (Levy) via psychic Oda Mae Brown (Sharon D Clarke).
The stage illusions, by Paul Kieve, include people passing through solid objects or being tossed into the air before being sucked into Hell.
The celebrity audience on Tuesday included Bob Geldof, Coronation Street actress Helen Worth, Michael Ball, Rocky Horror Show creator Richard O'Brien and Tom Hooper, Oscar-winning director of The King's Speech.
Ghost The Musical is the latest in a long list of screen-to-stage adaptations, including The Lion King, Billy Elliot, Dirty Dancing, Legally Blonde and Shrek.
"Musicals based on movies are a dime a dozen," pointed out The Guardian's Michael Billington in his three-star review, "but Ghost is the first I've seen that feels like a film."
He added: "The real stars of Matthew Warchus's production are Rob Howell's sets and Jon Driscoll's video designs, which graphically recreate the kaleidoscopic frenzy of Manhattan life. This is a musical in which the eyes emphatically have it."
The Independent's Paul Taylor also admired the visuals: "Transparent, rearrangeable LED screens swarm with stock-market numbers, as a chorus of bankers perform thrusting dances, or they cause a lurch in the stomach as they plunge us into hurtling subway trains where Matrix-like movement is unsettlingly married to visual distortion.
"It's all seamlessly inventive and full of synaesthetic pleasures, but it can't fully compensate for the shallowness in other departments."
One of warmest reviews came from The Telegraph's Charles Spencer, who found the production superior in many ways to its movie counterpart.
"As the lovers separated by death, Richard Fleeshman and Caissie Levy need to ignite a touch more stage chemistry, and could usefully turn down the volume during the strident ballads," he wrote in his four-star review.
"This may not be a great musical, but it is a highly entertaining one that looks set to keep audiences laughing, gasping and sniffing back tears for a long time to come."
However, Quentin Letts, in the Daily Mail, suggested the show "was loud enough to wake the dead".
"Much of Ghost is not so much musical theatre as blaring pop concert, with hi-tech graphics and some odd choreography. Several of the songs are screamed rather than sung. The dancing would not have been out of place in Top of the Pops."
His verdict: "One for the hen parties, perhaps."
That sentiment was shared by Matt Wolf of The Arts Desk who found the show "insubstantial", and described it as "a breathlessly vapid musical sure to keep hen parties happy for some while to come".
Ghost The Musical is at the Piccadilly Theatre until 28 January.