Dame Jacqueline Wilson reveals her humble roots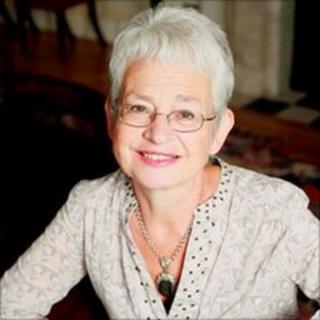 Children's author Dame Jacqueline Wilson is to recreate the "bleak and bare" bedroom from the council flat in which she grew up for a new exhibition.
Dame Jacqueline, 65, will create a replica of her childhood bedroom to show young fans that people from any background can become a writer.
Best known for the Tracy Beaker series, she will also put her manuscripts and notebooks on show for the first time.
The exhibition opens at the Seven Stories centre in Newcastle in October.
Dame Jacqueline grew up in Kingston-upon-Thames, Surrey, and claims to have written her first "novel" at the age of nine.
She has gone on to sell more than 30 million books in the UK. She was the most borrowed author from UK libraries from 2000-2009 and was the Children's Laureate from 2005-2007.
"Children are often surprised that I came from a perfectly ordinary, rather poor background," she told BBC News.
The exhibition, she said, was "very much a way of showing children that if you want to create anything, you don't need an expensive laptop or anything, all you need is paper and a pen".
Fans will be able to flick through books that inspired her as a child and meet her favourite toy, a stuffed dog called Vip.
The exhibition also includes a recreation of her current sitting room, with the "very grand chaise longue where every morning I recline like a Victorian invalid and write by hand".
Crew members from the hit Tracy Beaker TV show will reproduce the living room from the series.
Fans will also be able to see manuscripts, drafts and letters relating to Wilson's popular novels including The Story of Tracy Beaker, The Illustrated Mum, Best Friends and The Suitcase Kid.
Set up in 2005, Seven Stories is aiming to be the national centre for children's literature, combining galleries, an activity centre and an archive.