Jennifer Aniston shows her 'horrible' side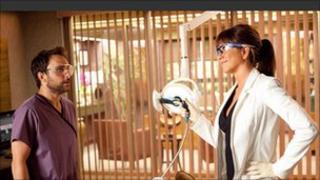 She is most famous for playing ditzy coffee waitress-turned fashion exec Rachel in US sitcom Friends, but since the show ended seven years ago Jennifer Aniston has moved on.
The 42-year-old has carved out a successful career in romantic comedies, such as He's Just Not That Into You and The Break Up.
But the girl-next-door image, which has made Aniston popular with men and women alike, looks set for a shake-up, thanks to her latest film Horrible Bosses.
In the film, she plays a nymphomaniacal dentist, who spends her time at work attempting to sexually abuse her assistant Dale (played by Charlie Day).
"It's very vulgar - and it's very crude," she says, smiling.
"I have never come across anyone like her, so I kind of went into my own dark imagination to see what I could come up with," the actress explains.
Portrayed as a sexual predator, Aniston's character Dr Julia Harris is a far cry from the dewy-eyed mother of three she played in the 2008 film Marley And Me.
Asked whether she was worried that the movie would affect her squeaky-clean image, the star shakes her head.
"No, not at all. That was the fun of it, to see how far I could go. I really went for it."
The film sees her put-upon assistant, Dale join forces with two friends - played by Jason Bateman and Jason Sudeikis - to seek punishment on their insufferable bosses.
But, sitting alongside her co-star Day at a London press conference, Aniston admits to some embarrassment on the set.
"After meeting you once, I'm then straddling you in my underwear. I was embarrassed for myself," she says.
Insufferable bosses
Much has been written about Aniston and her love life.
The tabloids revelled in the Hollywood love match between the actress and Brad Pitt in 2000.
But when the couple announced their divorce five years later and Pitt moved in with Angelina Jolie, the newspapers began to depict Aniston as a woman who was unlucky in love.
"I think it's a narrative that people read in the tabloids - it's just fodder," Aniston told BBC Breakfast.
"Right then... now... in the future, I'm extremely happy. My life is extraordinary."
It is so extraordinary that the star has decided she wants to enjoy it more and is currently taking a year off to "travel" and to "live a little".
Horrible Bosses director Seth Gordon was relieved she agreed to make the film before taking the planned sabbatical.
"The first time I read it [the script] I thought of Jennifer - I don't know if that's good or bad, but that's exactly what I thought," he says.
"She's such a great comedienne that I just thought she'd bring a life to it that no one else could."
The all-star cast also includes Colin Farrell and Oscar-winners Jamie Foxx and Kevin Spacey - much to the director's delight.
"I actually thought Kevin was going to be in theatre and unavailable, but I was thrilled [he was free] because he was the perfect guy to create the evil Mr Harkin."
In recent years, Spacey has cut back on his film work to concentrate on his role as artistic director of London's Old Vic theatre, a post he has held since 2004.
When asked what sort of boss he is to his members of staff at the theatre, he jokes: "They think I'm an ass..."
But the American Beauty actor goes on to insist his employees do nothing but "make me look very good".
Horrible Bosses, which follows on from the recent spate of adult comedies, such as The Hangover, Bridesmaids and Bad Teacher, has received mixed reviews in the US.
Rob James from Total Film called it "frantic and funny", whilst Variety's Justin Chang criticised the central storyline as "predictably moronic, vulgar and juvenile".
But Aniston shrugs off the comments, labelling critics "inconsistent", before adding: "It really feels like it's personal digs as opposed to constructive critiques of performances."
Spacey adds: "There is a tendency to criticise a personality, rather than the content or actually even the performance."
Horrible Bosses is released in the UK on Friday 22 July