Ricky Gervais blogs about divine new role in Afterlife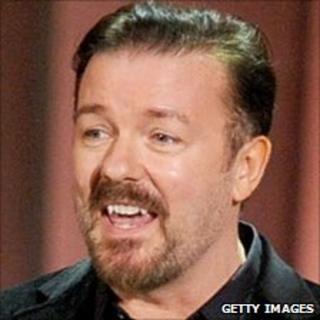 Comedian Ricky Gervais has revealed details about his new television series Afterlife, in which he will appear as an "arrogant, wisecracking" God.
The show is about an atheist who dies and finds himself in heaven, the Office creator wrote on his official blog.
His version of the Almighty, he added, "loves welcoming atheists to heaven with a smug grin on his face".
Gervais said he and Dexter producer Clyde Phillips thought the show would be "fun, different and entertaining".
Yet he refuted suggestions Afterlife would be "an atheist comedy" on the grounds that such a programme would not feature God or heaven.
"In this work of fiction heaven must exist. So does God," he wrote. "How is that an atheist comedy?"
Gervais will soon be seen in Life's Too Short, a BBC sitcom starring Harry Potter actor Warwick Davis - who has dwarfism - as the misanthropic boss of a talent agency for other little people.
"If he isn't the comedy sensation of the year I'll be very surprised," wrote Gervais, who said Davis had been "a revelation".