The Wanted remain top of UK charts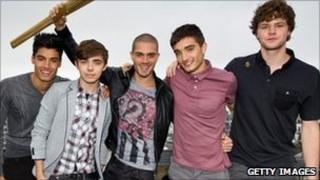 Boy band The Wanted have retained their slot at the top of the UK singles chart this week with Glad You Came.
The top five positions remain unchanged, with Louder by DJ Fresh staying at number two, followed by Ed Sheeran in third place.
At number four is Beyonce with Loick Essien in fifth place.
Adele remains number one in the album charts, while Amy Winehouse's record Back to Black has re-entered the charts almost five years after its release.
The news of the 27-year-old's death has boosted sales of her 2006 award-winning album, the Official Charts Company said.
The record, which was produced by Mark Ronson, made it to number 59 in the few hours between the singer's death and the sales being counted.
"While Amy has already had an impact on the Official Charts, we would expect an even bigger impact to roll through over the coming days," the company's Martin Talbot said.
"Such a demonstration of her popularity is the best tribute the British public can pay to this extraordinary British talent."
Adele's 21 has been riding high in the charts for 26 weeks now. The star, who earlier this week was also nominated for the Mercury Music Prize, remains at number three this week with her debut album 19.
Beyonce's album 4 also stays put - in second place, the same position as last week.
Carol Emerald is in fourth place this week with Deleted Scenes From The Cutting Room and Lady Gaga's Born This Way falling one place to number five.
In sixth place is Bruno Mars, followed by Rihanna and her record Loud.
Lmfao debuted their album, Sorry For Party Rocking, at number eight, followed by Chase And Status and No More Idols at number nine.
The Foo Fighters rounded off the top 10 this week with their album Wasting Light, falling two places from last week.