Westminster Abbey to host Bush theatre's Bible show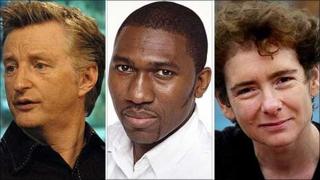 London's Bush theatre is to present its next show - a celebration of the King James Bible - at Westminster Abbey, in an overnight performance this October.
Sixty-Six Books will see 66 novelists, playwrights, poets and authors respond to each of the 66 books in the historic Bible to mark its 400th anniversary.
Kwame Kwei-Armah, Billy Bragg, Carol Ann Duffy and Jeanette Winterson are some of the many talents involved.
The event starts at 1900 on 21 October and runs until 0700 the following day.
Sixty-Six Books will be the first production to be staged at the Bush theatre's new premises in west London, in a former library near its old Shepherds Bush site. It will debut on 14 October.
A week later, an international cast will present the work at the Abbey in a specially extended promenade performance before an audience of 200 people.
A selection of works from Sixty-Six Books has been specially chosen for the occasion.
Literary highlight
It was at Westminster Abbey in 1611 that a group of scholars gathered together in the Jerusalem Chamber to translate key passages of the Bible for King James.
Subsequent centuries have seen this book become one of the most significant works of literature in the English language.
The newly-announced show follows In the Beginning, another Bush work marking the Bible's quatercentenary staged at Westminster Abbey in March.
Christopher Eccleston, Tamsin Greig and Ralf Little appeared in the piece, which saw small groups taken into areas of the London landmark rarely shown to visitors.