Amy Winehouse's Back to Black tops UK album chart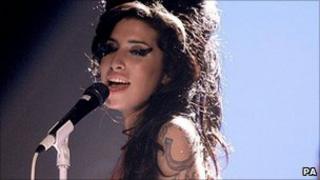 Amy Winehouse's 2006 album Back to Black has topped the UK charts eight days after she was found dead at her home in Camden, north London.
Her first album, Frank, was at five while five tracks made the singles top 40 after a surge of record sales for the singer who was cremated on Tuesday.
Back to Black's title track, at number eight, was her highest-placed single.
In the US, where she won five Grammys for Back to Black, the album was at number nine in the Billboard 200.
Also in the UK singles chart, Tears Dry on Their Own was at number 27, Rehab was at 29, Love is a Losing Game was at number 33 and You Know I'm No Good was at 37.
HMV's Gennaro Castaldo said Winehouse's record label had needed to produce more stock to satisfy demand.
"In terms of the album sales, there was a real surge last weekend, both through downloads and people buying the CD.
"But a lot of stores then ran out of stock and they've been waiting for more to arrive which it did around Thursday."
Winehouse follows in the footsteps of artists including John Lennon and Michael Jackson in achieving number one records shortly after their death.
On Saturday 20 December 1980, 12 days after he died in New York, John Lennon's (Just Like) Starting Over was a UK number one single.
And on Sunday 28 June 2009, three days after his death, Michael Jackson's greatest hits album, Number Ones, rocketed from 121 to number one in the UK while six of his tracks entered the singles chart on the same day.
Sunday's singles chart, meanwhile, was topped by She Makes Me Wanna, by JLS featuring Dev, in its first week of release.