Booker longlist: McGuinness on The Last Hundred Days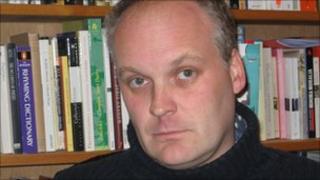 In our third interview with the four first-time novelists on the Booker longlist, Patrick McGuinness describes how living in Ceaucescu's Romania helped shape his debut novel The Last Hundred Days.
"It was a pretty brutal and deprived place. There was something really surreal about it," says Patrick McGuinness of his gap year in Romania in the 1980s.
McGuinness had left Bucharest by the time of the bloody overthrow of communist leader Nicolae Ceausescu, but he channelled his experiences into his first novel The Last Hundred Days, which came out in paperback in June 2011.
The story is narrated by a young English student who arrives in Bucharest and finds himself in a surveillance society populated by dissidents, party apparatchiks, black-marketeers, diplomats and spies.
McGuinness says: "I was there at a time when Ceausescu was destroying the most beautiful buildings in Bucharest and building this Stalinist Legoland of kitsch, tasteless blank marble."
A professor of French literature at Oxford, McGuinness was on a remote beach in Brittany when the Booker longlist was announced last week. It wasn't until a few hours later when he drove back into an area with mobile reception that he heard the news.
"Suddenly all these text messages pinged in. I thought some friends had got together to play an elaborate joke about my obscure novel on an obscure topic."
Poetry alter ego
Born in Tunisia in 1968, McGuinness's books include two collections of poems, The Canals of Mars (2004) and Jilted City (2010).
"I found more and more of my Bucharest experiences were coming through in poems," recalls McGuinness.
"There was this whole trove of sights and sounds and smells in my head that were being liberated. I literally got up on Boxing Day morning and started writing the novel."
In a bizarre twist, the character of a poet who was axed from the novel for being "boring" has gone on to enjoy a separate literary existence.
McGuinness, writing as Liviu Campanu, included some of the Romanian's poet's work in his last collection.
"The irony is that people thought they were real translations. He's had a life of his own."
The Last Hundred Days has been published at a time when political upheavals and regime change in the Middle East have been dominating the headlines.
"I like the idea that sales of my book have shot up in Libya as a result of the Booker news - it's an odd kind of topicality you could never have predicted," says McGuinness.
"I was a child in Iran during the Revolution so I must have a weird attachment to Revolution narrative."
He jokes: "I could start a franchise. Take one slightly confused English narrator and plonk him at critical moments. I could be the Jilly Cooper of regime-change fiction! I might even make some money out of it."
As he awaits the Booker shortlist announcement, McGuinness is thinking about his next writing project.
"I have in mind another novel which will be much more contemporary," he says. "And I'm putting together another book of poems by my Romanian alter ego. He's obviously become so much more popular than me!"
The shortlist of six authors will be announced on 6 September with the winner of the £50,000 annual prize named on 18 October.