Daniel Radcliffe stage role goes to Glee's Darren Criss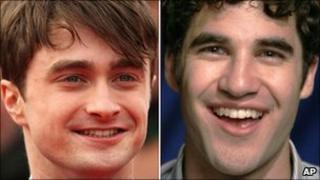 Glee star Darren Criss is to take over from Daniel Radcliffe in hit Broadway musical How to Succeed in Business Without Really Trying.
Criss, who plays Blaine Anderson - leader of all-male singing group The Warblers in the TV show - will play J Pierrepont Finch from 3 to 22 January.
That will follow Radcliffe's final performance on 1 January.
The production of Frank Loesser's 1961 show about an ambitious window cleaner was up for a Tony award this year.
It was beaten to the prize for best revival of a musical by Anything Goes.
Criss, who previously starred in ABC's TV adaptation of John Updike's 1984 novel The Witches of Eastwick, will make his Broadway debut in the show.
Harry Potter star Radcliffe has been in the production since it opened at the Al Hirschfeld Theatre in March.
He previously appeared on Broadway in Peter Shaffer play Equus in 2008 and 2009.
Radcliffe will next be seen on the big screen in Hammer thriller The Woman in Black, due for release in February.