Stars donate cameo film fee to theatre charity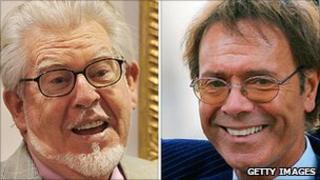 Sir Cliff Richard, Richard Briers and Rolf Harris are among the stars who have agreed to appear in forthcoming film Run For Your Wife for free.
The movie, which is based on Ray Cooney's 1983 play, will include more than 80 uncredited cameo roles.
All the cameo actors have agreed to waive their fee, which will be donated to a theatre charity instead.
Danny Dyer plays a man who has been happily involved in a bigamous marriage for years.
The movie, which is not expected to be released until next year, also stars Neil Morrissey, Denise van Outen and Sarah Harding.
A spokesman said all the stars agreed to forgo their fee because they all know Cooney - who is directing the movie - so well.
On the film's website Cooney explained he was offered huge sums of money from various film companies to make the film.
Instead he turned them down, choosing to set the movie in the UK, and worked on the script himself.
"I have come up with what my colleagues all think is a terrific screenplay," he said.
"None of the humour has been lost from the original stage version, but it has been 'opened up' in a way that anyone who missed seeing the stage version (is there anyone?!) would never guess its 'theatre' background."
Maureen Lipman, Ray Winstone, Prunella Scales, Dennis Waterman, Sylvia Sims and June Whitfield have also signed up to small roles.
Bernard Cribbins played the lead in the West End debut of the production.
The show went on to run for eight years in London.