Latin musicians sue over Grammy changes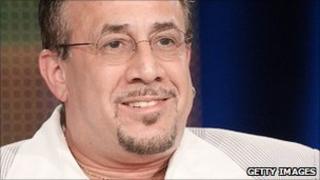 Four Latin jazz musicians are suing the organisers of the Grammy Awards over axing their genre as an award category.
Grammy nominees Bobby Sanabria and Mark Levine are among those accusing the National Academy of Recording Arts and Sciences of devaluing their music.
The legal claim calls for the best Latin jazz album category to be reinstated at the annual ceremony.
In a statement, the academy said it "believes this frivolous lawsuit is without merit".
"They shouldn't have done this," said Roger Maldonado, a lawyer representing the musicians which also includes Ben Lapidus and Eugene Marlow.
"Not only does it devalue the category of music and the work these musicians do, it makes it much harder for them to gain recognition."
It was announced in April that the number of award categories was being cut from 109 to 78.
'Enormous value'
The changes included eliminating the male and female divisions in the pop vocal category to one field, as well as reducing categories like best Latin jazz album and best classical crossover album.
Instead, artists who would have competed in those categories will now be part of a broader pool competing in a general field.
"The concern is by lumping several categories together, it makes it much easier for larger record labels and those artists who have already gained recognition to dominate," Mr Maldonado said.
Legal papers claim the changes will have a detrimental effect on the musicians' careers by taking away the Latin jazz category.
"Even being nominated for the award has enormous value for these musicians," Maldonado added.
Other musicians have also criticised the award changes.
Carlos Santana and Herbie Hancock delivered a letter of protest to the academy in May, arguing the changes had made without consulting academy members.
They said the reductions unfairly target ethnic music and called for the categories to be reinstated.
But academy president Neil Portnow said a members' committee had been consulted about the changes.