Amy Winehouse and Tony Bennett duet to benefit charity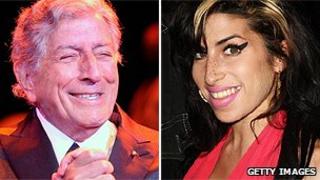 A duet between jazz legend Tony Bennett and Amy Winehouse is to be released as a charity single.
Proceeds from the jazz classic Body and Soul will go toward a foundation being set up by the late singer's father to help young people's charities.
The pair recorded the track at London's Abbey Road Studios in March. It was one of Winehouse's last recordings prior to her death on 23 July.
It will be released ahead of Bennett's Duets II album, out on 20 September.
"What's going to happen is that we're putting that [Body and Soul] out ahead of the album," Bennett told MTV.
"And it's going to a foundation that her father started - to teach all the young children not to take drugs, and all the royalties of the record will go to that."
In an interview with Radio 4's Front Row last month, Bennett praised Winehouse's musical talent, calling her "truly, a good jazz singer".
'Fitting tribute'
In a statement, Mitch Winehouse said he "couldn't be happier".
He added: "Amy was so excited to be working with Tony Bennett and really looking forward to her fans hearing this new recording.
"The fact that Amy's voice is sounding as amazing and beautiful as ever and she is singing with the great Tony Bennett seems the most fitting tribute of all at this very difficult time."
Speaking about the Amy Winehouse Foundation, Mr Winehouse said it would help a number of charities connected with children and young people.
"We wanted to make a positive difference and help a range of causes close to Amy's heart. This could include help for children in trouble, suffering from health problems, children's hospices and more.
"While it is separate from my campaign to find more help for young addicts, that may be one of the areas that Foundation contributes to. We intend to raise funds and distribute them to individual projects who apply for help," he added.
Winehouse died unexpectedly, aged 27, following years of alcohol and drug addiction.
The singer's family are currently awaiting the results of toxicology tests to establish the cause of her death.