Hollywood Foreign Press give nearly £1m in arts grants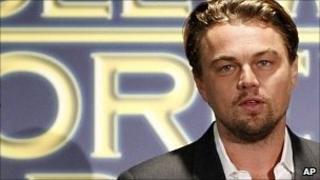 Nearly 50 US arts organisations have received money from the company behind the Golden Globes, which is giving $1.5m (£921,000) away in grants.
The Hollywood Foreign Press Association (HFPA) has donated more than $13m (£7.9m) over the past 17 years.
Leonardo DiCaprio accepted a grant on behalf of the Film Foundation - founded by Martin Scorsese to preserve films - at the Beverly Hills Hotel.
Mark Wahlberg, Kevin Bacon and Taylor Lautner also attended the event.
"I accept this on behalf of the partnership between the Film Foundation and the HFPA, which has donated $3 million over the last 15 years for our preservation and film restoration projects," DiCaprio said.
It is thought the money will go to the restoration of titles like 1951's The Tales Of Hoffman, Death of a Salesman and Investigation of a Citizen Above Suspicion.
In previous years, HFPA grants have helped restore such classics as the 1933 King Kong, Stanley Kubrick's Paths of Glory and The Red Shoes.
Other non-profit organisations which benefited from the grants included several film schools in California, accepted by Kevin Bacon.
British actor Hugh Dancy accepted a grant for FilmAid International, which uses film as an educational tool in refugee camps in Africa.