Marilyn Monroe 'sex film' fails to sell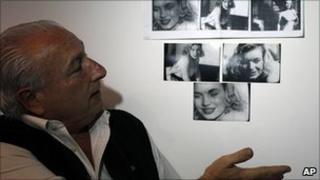 A film allegedly showing a young Marilyn Monroe having sex has failed to sell at an Argentinian auction.
Memorabilia collector Mikel Barsa had wanted at least two million Argentine pesos (£293,000) for the six-minute, black-and-white 8-mm film.
Mr Barsa claimed it showed the star, known then as Norma Jeane Baker, around 1946 or 1947 when she was poor and desperate to break into show business.
However Marilyn Monroe's estate has called the film a fraud.
Nancy Carlson, from the licensing company Authentic Brands Group which protects Monroe's image and estate, said the film "doesn't even resemble" the actress.
Experts on Monroe's life also say it is highly unlikely the smiling young blonde in the film is her.
Mr Barsa said it was not surprising the film did not sell.
"The latest statements of Nancy Carlson didn't do anything good for all this," he said.
"Of course I understand their stance - Marilyn gives and produces many millions per year. They are thinking of protecting her image. There is no other way in which to interpret it," he added.
Mr Barsa said he was still negotiating with an unidentified buyer from the US whom he said was offering much less than a fair price.
But he also said his lawyers were reviewing the matter as the Authentic Brands Group warned they would sue him if the sale went through.
Ms Carlson said any sale of the film would invite legal action for "perpetrating a fraud on the public, violating the Monroe estate's exclusive rights to her image and other claims of intellectual property infringement".