Escape to New York festival cancelled after storm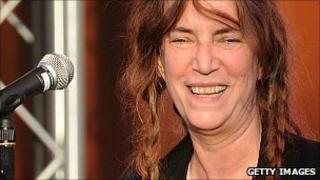 The final day of the inaugural Escape to New York festival on Long Island was cancelled on Sunday after storms.
Overnight rain had caused flashfloods and power failures at the Shinnecock Indian Reservation.
Organisers said the request to cancel came from Tribal Trustees, who were concerned about safety of attendees and potential damage to the tribal grounds.
In a statement, promoters said the festival was cancelled "out of respect for our gracious hosts".
Trustee Frederick Bess said the decision was "based on flash flooding occurring last evening and power outages on the reservation".
"The current forecast is predicting a significant chance of precipitation which may create further damage.
"In addition there are safety concerns as a result of the rain and adverse condition that may affect general safety of both attendees and working personnel," he added.
The potential damage to the grounds was a worry for tribal leaders as it is the site of its annual convention of Native Americans being held next month - one of the tribe's major sources of income.
As well as pools of standing water, much of the site had been churned up from vehicles and foot traffic after two days of the event.
Organisers of the festival, modelled on the Secret Garden Party events in Britain, said they "look forward to returning next year".