Fund for high speed rural broadband expected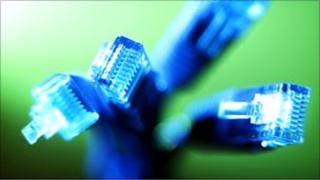 This round-up of Monday's main media stories focuses on plans to speed up broadband internet.
Government plans to bring high speed broadband to rural communities, with funds from the BBC licence fee, are expected to move a step closer this week. The Guardian says "Culture secretary Jeremy Hunt will fire the starting gun on the race to turn Britain's internet 'not spots' into hot spots by allocating a £530m fund among 40 areas including English councils, Scotland and Northern Ireland."
Top Gear is in the news again, this time over claims by a former driver for the programme that "80%" of the show's driving is done by professional racers rather than the presenters. The Daily Mirror says Jeremy Clarkson is furious at the suggestion, quoting him: "Any claims that I fake Top Gear road tests are utter rubbish. When I say I'm driving at 207mph, it's because I'm driving at 207mph. If the director chooses later in the day to get a shot of the speedo reading 207mph, then good for him." In a statement, the BBC said: "Jeremy performs all of the challenges you see him perform on Top Gear."
Big Brother returns on Thursday in a new home - Richard Desmond's Channel 5 - having been dropped by Channel 4 last year. The Guardian says "No one is expecting a return the halcyon days of the early noughties when Big Brother regularly brought Channel 4 audiences of 4 million plus, big online audiences and page after page of tabloid coverage." But can some of the success be recreated? Possible names in the frame for Celebrity Big Brother include Irish pop duo Jedward, the Speaker's wife Sally Bercow and Pamela Anderson.
The News of the World's tabloid rivals are celebrating big sales increases following the closure of the paper as a result of the phone-hacking scandal. I reported on BBC News that the Sunday Mirror picked up the most new customers with average sales for July of 1,786,454 copies - almost 700,000 more than in June. Daily Star Sunday was the big winner in percentage terms, selling an average of 703,632 copies - 130% up on June.
The papers are dominated by a growing divide about the response to riots according to BBC's newspaper review.