Rise of the Planet of the Apes beats Smurfs at cinemas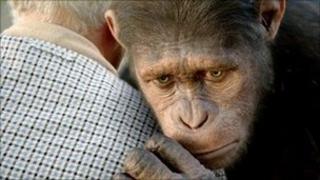 Rupert Wyatt's Rise of the Planet of the Apes has beaten The Smurfs to top the UK and Ireland box office, taking £5.8m on its opening weekend.
3D movie The Smurfs, featuring the voices of actors including Neil Patrick Harris, entered at two with £3.8m.
Harry Potter And The Deathly Hallows Part 2 was third with £1.7m, after four weeks at number one.
The new episode in the Apes franchise stars James Franco as a scientist looking for an Alzheimer's cure.
Rise of the Planet of the Apes tells the tale of Will Rodman and his experiments on CGI chimp Caesar, played by British actor Andy Serkis.
When the ape ends up at a sanctuary for primates, events escalate out of control.
Speaking to the BBC, director Wyatt said the film was "a Spartacus story".
"It's a few apes rising up against their oppressors, but after that it's an escape movie, it's them trying to find paradise."
Rise of the Planet of the Apes is also top of the US and Canada box office, after taking $27.5m (£16.9m).
Part-animated film The Smurfs also features the voice of stars including The Simpsons' Hank Azaria, singer Katy Perry and comedian George Lopez.
Sci-fi mystery Super 8 dropped two places to number four, with £1.2m, while family comedy Mr Popper's Penguins dropped two to number five, taking £897,336.