Phone hacking: Letter alleges News of the World cover-up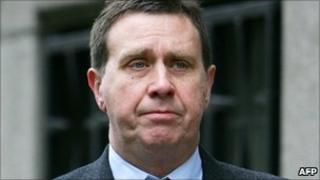 This round-up of Wednesday's main media stories focuses on new revelations in the phone-hacking scandal.
MPs have reignited the News of the World phone-hacking scandal with the publication of new documents which suggest News International was involved in a four-year cover-up.
The Guardian says Rupert Murdoch, James Murdoch and their former editor Andy Coulson "face embarrassing new allegations of dishonesty and cover-up after the publication of an explosive letter written by the News of the World's disgraced royal correspondent, Clive Goodman".
In the article by Nick Davies, who broke the original story, he says Goodman makes the following claims: "that phone hacking was 'widely discussed' at editorial meetings at the paper until Coulson himself banned further references to it; that Coulson offered to let him keep his job if he agreed not to implicate the paper in hacking when he came to court; and that his own hacking was carried out with 'the full knowledge and support' of other senior journalists, whom he named."
The Independent reports that the "previously secret papers show that Rupert Murdoch's most senior lieutenants paid the NOTW's disgraced royal editor, Clive Goodman, £243,000 in compensation soon after he had made damaging accusations against the company and its senior staff."
It adds that the hundreds of pages of documents, released by the House of Commons Culture, Media and Sport Committee, shed doubt on key aspects of James and Rupert Murdoch's evidence to MPs last month.
The Culture, Media and Sport Committee has published the correspondence it has received following the session with News International executives on Tuesday 19 July 2011.
Residents in rural areas of England and Scotland should have faster internet speeds after the culture secretary allocated nearly £363m to improve their broadband connections, reports BBC News.
Cumbria will get one of the largest shares of the £530m pot, with over £17m to cope with its 96.2% of homes eligible for subsidies.
The Scottish government will decide how to use the money in Scotland. Wales and Northern Ireland have already been allocated their share of the fund, which was set aside from the TV licence fee.
BBC Worldwide has agreed to sell many of its magazine tities, including the Radio Times to Exponent, a company whose assets include the website thetrainline.com, says BBC News. Other non-BBC branded titles involved include Gardens Illustrated and Olive. Other BBC titles, including Top Gear, Gardeners' World and Lonely Planet will be published by Exponent under licence.
The letter from Clive Goodman, alleging that hacking was widely discussed by top editorial staff, is covered by all the newspapers, as reported in the BBC's papers review.