The return of Big Brother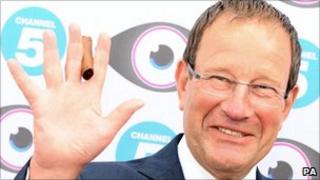 This round-up of Thursday's main media stories focuses on the return of Big Brother and its importance for Richard Desmond and the wife of the House of Commons speaker.
The reality TV programme Big Brother is back on our screens tonight, saved by Channel 5's owner and media mogul Richard Desmond, who also runs OK! magazine, the Daily Express and the Daily Star. I reported for Radio 4's Today on its importance for Mr Desmond and how it fits into his booming business model.
The Daily Mail says it has emerged that Sally Bercow, the wife of House Of Commons Speaker John Bercow, will be paid £60,000 for participating in Celebrity Big Brother, on top of £100,000 she is being given for charity. The paper claims she will keep £40,000 and pass £20,000 to Max Clifford to act as her publicist during the show's run. It quotes Mr Clifford as saying "I can confirm [Mrs Bercow] is giving a £100,000 fee to her chosen charity. She's also being paid a fee a lot less than that and is paying me out of that."
The Daily Telegraph's Neil Midgley is alarmed at reports that BBC Four may lose much of its budget in the forthcoming cuts at the Corporation. He writes: "Twitter is awash with a 'Save BBC Four' campaign, and there is a formal online petition at www.savebbcfour.com... Such an outcome would be philistinism on a grand scale - and would also show a blatant disregard for the public purposes established for the BBC under its royal charter. BBC Four is by far the most distinctive of the corporation's television channels."
There's a claim that the growing popularity of e-readers could threaten the future of English literature because up-and-coming writers will not be paid enough to make ends meet, reports the Daily Telegraph. Booker-Prize winning author Graham Swift told BBC Radio 4's World at One programme: "I wouldn't envy a young aspiring writer now. The e-book does seem to threaten the livelihood of writers, because the way in which writers are paid for their work in the form of e-books is very much up in the air."
As UK broadcasters and programme-makers try to boost their income from product placement, and advertisers compete to get their products on the screen, the opposite is happening on one American TV show. BBC News reports that US clothing brand Abercrombie and Fitch has offered to pay the rowdy, hard-partying cast of MTV reality show The Jersey Shore not to wear its clothes. The company said their association with the clothing was "contrary to the aspirational nature of our brand".
In his Reuters blog, Nicholas Wapshott - former New York bureau chief of The Times - says the Murdoch phone hacking scandal has often been likened to a Shakespearean drama. "But what emerges from the new letters is that old man Murdoch more closely resembles Richard Nixon than any fictional figure... and, like Nixon, it is the orchestration of the coverup that now links the News Corp boss to the crimes committed in his name."
With A-level results due out today, the newspaper front pages bring little cheer to young people looking for jobs or university places this autumn, as reported in the BBC's newspaper review. The Times suggests most universities will offer fewer places through the clearing system than last year.