X Factor returns without Simon Cowell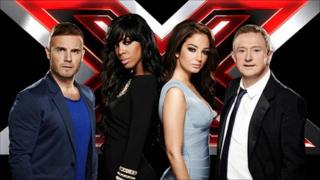 The new series of ITV's X Factor began this weekend, with former head judge Simon Cowell no longer on the panel. But is the music mogul still in control?
The jewel in ITV1's Saturday night crown returned this weekend, without its creator Simon Cowell.
Former judges Cheryl Cole and Dannii Minogue will also not be in attendance.
In their place are three new celebrities - Take That's Gary Barlow, Destiny's Child singer Kelly Rowland and Tulisa Contostavlos of N'Dubz.
At their side is X Factor stalwart Louis Walsh, the sole survivor from the previous judging panel.
When Cowell announced in April he would no longer be appearing on the show, ITV said he would continue to be "an enormous presence backstage".
Indeed, while the media mogul is away in Los Angeles developing a US version of the show, it is clear he is still busy flexing his producer muscles behind the scenes.
That could not have been more evident than at the press launch of the new series, held at the cinema at London's O2 Arena on Wednesday.
Red carpet
Typically, the past launches have involved print, online and broadcast journalists watching the first episode in a screening room, with ITV executives on hand to answer questions.
According to regular host Dermot O'Leary, however, the opening episode of the new series was not ready - as it was still awaiting Cowell's final approval.
Instead, five contestants' auditions were edited together to give a flavour of what is to come.
More unusually, the launch saw the judges arrive on a red carpet in front of a crowd of screaming fans, with about 800 of them invited in to watch the footage.
A short Q&A followed, traditionally the time for some tough questions from reporters.
How much pressure are the new judges facing? Can the show survive without Cowell and Cole? And are bosses worried about ratings?
And will Cowell return to the series later on as he did with his other show, Britain's Got Talent?
However, only fans were given the opportunity to ask questions, with the banality of topics ranging from favourite past winners and highlights of the series so far.
Barlow was asked by one fan if he was a better judge than Cowell. "It's going to be a tough role to fill," he replied, such is the large shadow Cowell still casts across the programme.
"Simon's the master at this, so we're all listening to what he's telling us."
The Take That singer was also keen to point out he would not be as harsh in his criticism as the man who came to be known as "Mr Nasty".
"I just want to be honest with them," he said. "I'm almost doing them a disservice by saying something that isn't true."
Usual suspects
Producers have promised "twists and turns" in the format this year, which include extra audition shows and more reality-style footage of the contestants while living together.
In another break with tradition, the final will be held at Wembley Arena in north London in front of an audience of 10,000.
"Everyone's going to be really surprised how great the show is going to be," Walsh told reporters on the red carpet.
"This is a totally different X Factor. It's like having a brand new car with a whole new engine - it's bigger and better."
Judging by the preview, though, the formula is pretty much the same.
The five contestants we are shown are the usual suspects - there's the cheeky 18-year-old heart-throb, the identikit diva - who, Contostavlos points out, is like Marmite: "people are either going to love you or hate you".
Then there's the inevitable nervous 16-year-old who turns out to be a good Ellie Goulding soundalike.
Of course, there is the crazy act who has no chance of winning but is put through because she is "entertaining", and finally the tone-deaf singer labouring under the misapprehension that he can carry a tune but who launches into a profanity-strewn rant when he's told he can't.
With journalists effectively frozen out of the Q&A, and smaller sessions for the tabloid media also called off, there was little opportunity for any further grilling.
So we are still no clearer as to how a Cowell-less X Factor will perform over the course of the new series.
The real test will be to see if it is enough for the mogul to pull the strings behind the scenes, or if he needs to maintain an on-screen presence for the show's continued success.
His creation remains a cash cow for ITV and many people at the network will be nervous that his absence may lead to a decline in ratings.
An average of 10.5 million viewers tuned in to the first episode on ITV1 to judge for themselves if the new series lived up to expectations.
It will be whether it can maintain its interest and appeal in the weeks to come that will be the truer test.