BSkyB told to change pay-TV business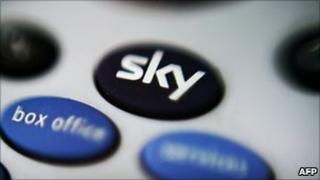 This round-up of Friday's main media stories focuses on a new threat to BSkyB's pay-TV film business.
BSkyB's dominance of the pay-TV film market has been criticised this morning by the Competition Commission, which says consumers are paying £50m to £60m a year more than they should. The Guardian reports that in a provisional decision "the commission said BSkyB's contracts with the six major Hollywood studios present a significant barrier to entry to potential competitors, including BT and Virgin Media." The commission says Sky charges Virgin too much, so Virgin cannot make a business selling films to its customers.
Thriller writer James Patterson is the world's highest-paid author after earning $84m (£50.9m) in the past year, according to Forbes magazine, reports BBC News. His estimated earnings dwarf those of second-placed author Danielle Steel, who made $35m (£21.2m) from May 2010 to April 2011, the survey says.
The Guardian reports that James Desborough, an award-winning former reporter at the News of the World, has been arrested by officers investigating the phone-hacking scandal. The paper says the allegations are believed to relate to events before Desborough became the NoW's Los Angeles-based US editor in April 2009. It claims his move to the US is significant because it raises the question of whether he practised those techniques there too.
NME, IPC Media's flagship music title suffered a 14.3% year-on-year fall in its average circulation to 29,020, according to new data from the Audit Bureau of Circulations (ABCs), reports Media Week. It says the NME's circulation is less than half its high of 76,792 five years ago. In other ABC results, it says Private Eye is selling over 200,000 copies a fortnight after 50 years.
The Daily Mail's Jan Moir was not impressed by last night's opening instalment of Celebrity Big Brother. She says "after weeks of speculation, there were a few big surprises. Mostly that there were no big stars. Of the much rumoured appearances of Charlie Sheen, Bobby Brown and Pamela Anderson, there was no sign. Instead we had Kerry Katona, Tara Reid, Paddy Doherty, Amy Childs, Darryn Lyons, and a Joe Hunky male model who kept saying 'Hi, I'm Bobby'."
Allegra Stratton says in the Guardian the Speaker's wife Sally Bercow could raise the tone of debate in the Big Brother house, but has admitted her husband was "not exactly chuffed" at her decision to go on the programme.
There are wide-ranging reports in most newspapers of what the Independent calls "the frantic scramble for a dwindling number of university places," as reported in the BBC's newpaper review.