The return of the X Factor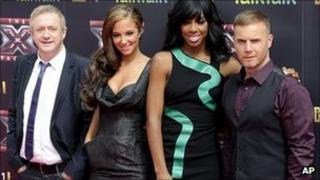 This round-up of Monday's main media stories focuses on the return of X Factor.
The autumn viewing season has arrived, with the first of the Saturday night blockbusters - ITV's X Factor - hard on the heels of Channel 5's Big Brother. BBC News says X Factor was watched by an average of 10.5 million people on ITV1, according to initial overnight figures from the broadcaster.
The Daily Mirror says the audience peaked at 12.6 million. The talent show's eighth series is the first without judge Simon Cowell, who is developing a US version of the show. Take That's Gary Barlow, pop singer Kelly Rowland and Tulisa Contostavlos of N-Dubz have joined the panel.
The Daily Mail says "the return of The X Factor is proving as controversial as ever after it was filled with sleaze before the 9pm watershed." It says one teenager boasted of his sexual antics before baring his tattooed bottom. The paper reports "the more controversial acts came despite executives being warned by the TV watchdog Ofcom that overtly sexual or sleazy performances needed to be toned down following a deluge of complaints from viewers last year."
The Mail on Sunday reports that Dame Eileen Atkins - co-creator of Upstairs Downstairs - has refused to appear in the next series because she is unhappy with the scripts. It is due to begin filming in less than a month. The paper says "her departure is yet another setback for the BBC show that many feel has been overshadowed by its ITV rival Downton Abbey". It quotes a BBC insider: "Everyone on the show wishes her well and producers are currently looking at how scripts can be redeveloped."
In the Daily Telegraph, Charles Moore says the episode of Radio 4's The Reunion about the spy Anthony Blunt was disgracefully one-sided. It "brought together five distinguished people who had studied under Blunt. They included the director of the British Museum Neil MacGregor, the novelist Anita Brookner and the critic Brian Sewell... As with the same programme's treatment of the 30th anniversary of the Brixton riots (which this column criticised on March 28), the entire panel was on the same side. Blunt was a virtually innocent victim, we were told, and the only villain was the press."
Can the modern media keep secrets - and should they? The D-Notice Committee was set up in 1912, when the UK government wanted to stop the media from reporting incidents for national security reasons. They're now called Defence Advisory Notices and are voluntary. But can they survive in a world of citizen journalism, Twitter and Wikileaks? Naomi Grimley, presenter of BBC Radio 4's D For Discretion, has talked to journalists, lawyers and the military.
The arrival of rebels in Tripoli, and the potential end of Colonel Gaddafi's rule as Libyan leader, dominates the day's newspapers, as reported in the BBC's newspaper review.