Hammer Horror screenwriter Jimmy Sangster dies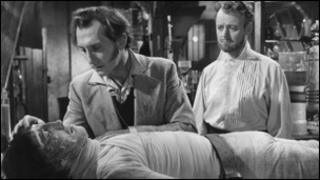 Screenwriter Jimmy Sangster, who wrote such Hammer Horror films as Dracula and The Curse of Frankenstein, has died at the age of 83.
Sangster began his film career at the age of 16 as a gopher and clapper boy, before moving up the ranks to become an assistant director.
He moved into screenwriting with his 1955 short film, A Man on the Beach.
But it was his 1957 reworking of Frankenstein that made his name. He also wrote The Mummy, released in 1959.
His other credits include Paranoiac starring Oliver Reed, Bette Davis film The Nanny, and The Fear In the Night - his last screenplay for Hammer.
He is survived by his second wife, actress Mary Peach, and a son, Mark.
Hammer Films historian Marcus Hearn described Sangster as "one of the most self-effacing men I have ever met".
Sangster told one interviewer in the 1990s: "All of a sudden I'm a cult figure. But it's all due to about five movies: a couple of Frankensteins, a couple of Draculas and a Mummy."