Libya conflict: Journalists kept in Tripoli hotel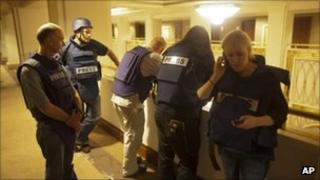 This round-up of Tuesday's main media stories focuses on the reporters covering the battle for control of Tripoli.
The New York Times reports that journalists from international news organisations including the BBC, CNN and Reuters have been "holed up in Tripoli's premier hotel with no electricity or air-conditioning, forced to stand clear of any windows because of stray bullets".
It says the Rixos has become a "prison" for the journalists: "Armed government forces have refused to let journalists leave. And even if they wanted to, a raging gun battle outside would probably prevent them from getting very far."
BBC News correspondent Matthew Price described conditions in the Rixos hotel in a live report for Radio 4's Today programme.
The Guardian reports that while other journalists were trapped in the hotel, Alex Crawford from Sky News reported live from within the advancing rebel convoy, emerging as "the runaway winner in the battle of the broadcasters."
BBC News Rupert Wingfield-Hayes was travelling into the capital's centre with rebels when it was attacked by pro-Gaddafi forces.
The BBC's business editor Robert Peston reports that former News of the World editor Andy Coulson received payments of several hundred thousand pounds from News International after taking on the role of director of communications for the Conservative Party in July 2007.
The Guardian says this will mean new questions for the PM about his decision to hire Mr Coulson.
As the BBC newsroom drama The Hour reaches its conclusion tonight, its writer Abi Morgan has admitted that some of the language used by characters would not have been said in 1956, the year that the programme is set. BBC News reports that in an email to The Independent, she "holds [her] hands up" to any historical errors in the script.
The paper's columnist David Lister said "anachronisms in speech, dress and social manners" had been "distracting" but it was still "the best thing currently on TV".
The situation in Libya continues to dominate the pages of the press, as reported in the BBC's newspaper review.