Libya conflict: Reporters still stuck in Tripoli hotel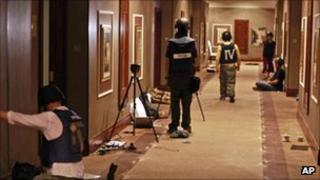 This round-up of Wednesday's main media stories focuses on the journalists still trapped in a Tripoli hotel.
Despite the widely-reported fall of the Libyan leader's citadel, 35 journalists and foreign nationals are still trapped in the Rixos hotel in Tripoli. BBC correspondent Matthew Price told Radio 4's Today programme this morning that conditions "deteriorated massively" overnight". He said pro-Gaddafi guards patrolled the corridors, preventing an ITV cameraman leaving, and that there were snipers on the roof.
The Independent reports that for those holed up in the once luxury hotel, essentials like food and water are running out, with intermittent electricity.
The BBC world news editor Jon Williams told the corporation's staff newspaper Ariel on Tuesday that the Rixos journalists were in a "desperate situation".
Facebook has announced a major revamp of how users control their privacy on the site. The Guardian's Jemima Kiss says "it has moved to address one of its biggest privacy challenges by finally giving users more control over photos tagged and shared on their profile".
How significant is the revelation by the BBC's Robert Peston that Andy Coulson was still being paid by News International when he was employed by the Conservative Party as David Cameron's director of communications?
The Daily Mail's Ephraim Hardcastle is sceptical, commenting: "Quelle scandal! Ex-executive collects severance pay!" But former News International editors David Yelland and Andrew Neil, now a BBC presenter, said on Twitter that they hadn't had the same experience. The Guardian's Dan Sabbagh says it raises uncomfortable questions for News International.
The papers are dominated by images of Libyan rebels celebrating the capture of what the Guardian calls Colonel Gaddafi's "last stronghold" in Tripoli, as reported in the BBC's newspapers review.