Can One Day be one big success?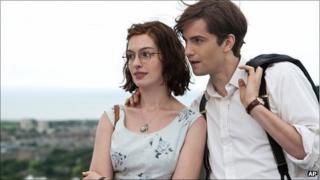 The film version of David Nicholls' best-selling novel One Day is now in UK cinemas. Will it be as successful as the book?
Making movies based on books is hardly a new phenomenon.
But when the novel in question has sold millions of copies worldwide, been translated into 40 different languages and received critical acclaim, getting the film version right is crucial.
The romantic story of Emma and Dexter's friendship, revisited on the same day every year over the course of two decades, is played out by Anne Hathaway and Jim Sturgess on the big screen.
"I didn't realise how deeply loved the book was when I signed on to play Emma and I sort of wish I didn't know," Hathaway admits.
"The weight of expectation got even larger, and I quickly realised I was going to disappoint a lot of people.
"People have their own idea as to who these characters are, how they act, how they sound."
But the 28-year-old, who has also starred in The Devil Wears Prada and Alice in Wonderland, says she thinks films can sometimes enhance the book they are based on.
"Sometimes there are things you can do on screen that you can't necessarily do in a book, and there are often times a book will be wonderful in a different way to the movie."
For Sturgess, previously seen in Across the Universe and 21, the stress of playing a well-loved character came much later.
"I was blissfully unaware," he laughs. "As I'd been out of the country, I wasn't really aware of the gravity of this book.
"It got more daunting as the film went on and when we were shooting in Paris and London I would see this orange book cover pop up everywhere.
"Then I started to get a little nervous. But I was just excited to be in a film that people might actually go and see."
'Hardest script'
The movie has certainly helped boost sales of the book in the UK.
According to trade publication The Bookseller, more than 60,000 copies of One Day were shifted across the UK last week.
Two years since it was first published, the novel is once again top of the fiction best-seller list.
Author David Nicholls, who started his career as a screenwriter, says he understood some of the issues that surrounded bringing a book to life on the big screen.
"I was aware that we'd have to lose things that I loved, and there were whole elements of the book that just wouldn't work on screen."
The writer, whose 2003 book Starter for Ten has also been filmed, wrote the One Day screenplay - the hardest script he has ever worked on, he says.
"Inevitably, as the author you feel possessive and you want to keep hold of it.
"You are always concerned about whether people who loved the book would also love the film, but they did and that was incredibly gratifying."
Despite the writer's optimism, the film took a disappointing $5.6m (£3.4m) in the US in its opening weekend.
And reviews for the film in the UK have been mixed, with many critics claiming the movie sticks a little too rigidly to the book.
The Telegraph's Sukhdev Sandhu says although the movie "keeps almost everything Nicholls' original novel contained", it lacks a "huge emotional punch".
Emma Dibdin's Total Film review says: "Much of Nicholls' sharp dialogue and emotional truth remains intact, but the over-faithful translation does little to compensate for what can't be lifted from the page."
But Nicholls shrugs off the criticism, insisting the "worst thing" one can do is "watch the movie and turn the pages in your mind".
He insists the audience must "experience the film as its own thing".
One element that may have baffled some fans was why director Lone Scherfig cast an American actress in the role of northerner Emma.
"I went for someone who is very warm, very experienced, and who is a strong dramatic actress," Scherfig explains.
"I think the way she has interpreted Emma makes a lot of sense."
Much has been made of Hathaway's accent in the film, which appears stronger in some scenes than others.
At the UK film premiere on Tuesday in London, Scherfig admitted the accent had been a "concern".
"But they're actors, and actors always play things that they are not," she added. "That's part of their job."
Nicholls agrees, saying that while he understood the "trepidation" surrounding Hathaway's casting, it was not an issue for him personally.
"British actors are constantly playing American roles and it's always seen as a rather good thing," he shrugs.
"I see no reason why it shouldn't be a good thing working the other way."
One Day is out now in the UK.