Libya conflict: The dangers of war reporting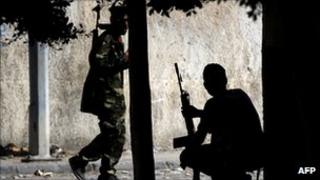 This round-up of Thursday's main media stories focuses on the dangers of war reporting.
The extreme dangers of war reporting have been highlighted by two incidents in the battle for Tripoli - the reports by Sky's Alex Crawford from a rebel convoy entering the capital, and the plight of other journalists trapped in the Rixos Hotel. Jon Williams, the BBC's foreign editor, has defended the corporation's coverage, after it was beaten into the Libyan capital at the weekend by Sky News, reports the Guardian.
On Radio 4's Media Show, he said war reporting was a combination of "luck and judgment". The paper says: "Williams applauded Crawford but said the BBC News team had made a judgment that it was not safe to travel with the convoy, while another of its reporters, Matthew Price, was holed up in the Rixos Hotel."
Dozens of foreign journalists who had been held by Gaddafi's armed supporters at a hotel in Tripoli have been released, says BBC News. They had spent six days trapped inside the Rixos hotel near some of the heaviest fighting with dwindling supplies of food and water. The BBC's Matthew Price reports on what life was like inside.
Home Secretary Theresa May will meet senior police officers and executives from the major social networks later to discuss this month's riots in England, reports BBC News. Representatives from Twitter, Facebook and Blackberry are expected to attend the meeting, which will look at how to stop people plotting violence online. The prime minister has said police may need extra powers to curb their use.
Writing in the Guardian, the BBC's director-general Mark Thompson says James Murdoch was wrong about the BBC in his 2009 McTaggart Lecture at the Edinburgh Television Festival. The Guardian says Mr Thompson "went on the offensive against James Murdoch and other critics of the public broadcaster, effectively accusing News Corporation of lapses of integrity and warning that the collapse of the BSkyB takeover was not an excuse to start a debate about the scale and scope of the BBC."
Apple founder Steve Jobs has resigned as chief executive of the technology giant and will be replaced by its chief operating officer Tim Cook, reports BBC News. Mr Jobs, who underwent a liver transplant following pancreatic cancer, said he could no longer meet his chief executive's duties and expectations.
The situation in Libya and the search for Col Gaddafi after his compound in Tripoli was captured remains top of the agenda for most of Thursday's newspapers, as reported in the BBC papers review.