Drop The Dead Donkey creator to write hacking comedy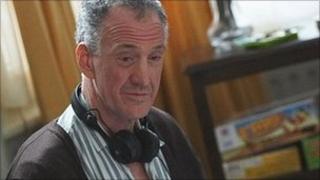 Drop The Dead Donkey creator Guy Jenkin is to write a comedy based on the newspaper phone-hacking scandal for Channel 4.
Hacks is set in a fictional paper where journalists use methods such as hacking, using private investigators and "pinging" - when a phone signal is used to track someone.
The one-off special is due to be broadcast later this year.
Jenkin said: "We hope to be faster and funnier than all the inquiries so far."
The scandal has so far brought about the close of British newspaper News of the World and has led to the arrest and questioning of former journalists and senior News International executives.
Channel 4's head of comedy Shane Allen said: "We are very excited about Hacks and it's great that Channel 4 can be so quick off the mark to shine a satirical light on what's been happening in the media over the last few months."
Drop The Dead Donkey, which Jenkin created with long-time collaborator Andy Hamilton, ran from 1990 to 1998 and was set in the offices of the fictional TV news company GlobeLink News.
The ensemble cast of the Bafta-winning show included Stephen Tompkinson and Neil Pearson.