Motown executive Esther Gordy Edwards dies at 91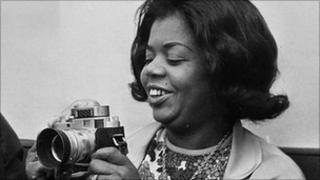 Motown executive Esther Gordy Edwards - the sister of label founder Berry Gordy - has died at the age of 91.
She served as senior vice-president and was charged with exposing the unique Motown sound to international audiences.
She also led the efforts to turn Motown's original headquarters in Detroit into a museum.
Berry Gordy started the famed label, home to such artists as Stevie Wonder and Smokey Robinson, in 1959.
A statement on the Motown Museum's website said Edwards died "surrounded by family and friends" on 24 August.
Edwards - Gordy's eldest sister - held several positions within the label but is best known for turning Motown's famed Studio A in Detroit into an attraction after the company moved to Los Angeles.
Gordy called her "one of my biggest assets at Motown".
He said: "Esther turned the so-called trash left behind after I sold the company in 1988 into a phenomenal world-class monument."
She also worked with several of Motown's biggest artists through the years such as Diana Ross and Marvin Gaye
Stevie Wonder said in a statement: "She believed in me. When I was 14 years old and many other people didn't or could only see what they could at the time, she championed me being in Motown."
"I shared with her many of my songs first before anyone else," he added.