UK riots: Social networks' role scrutinised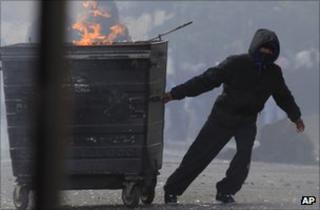 This round-up of Friday's main media stories focuses on the talks over the role social networks played in the recent riots.
The Independent says threats to close down Twitter and other social media during civil disturbances, raised in the heat of this month's riots, have been abandoned. It says the subject was not even discussed during an hour-long meeting between senior ministers, the police, and representatives of Facebook, Twitter and Blackberry yesterday. The idea had been raised by the Prime Minister and MPs David Lammy and Louise Mensch.
The government and police have not sought any new powers to shut social networks, reports BBC News. It says the Home Office said after the meeting that they had held "constructive" talks with the industry, aimed at preventing violence being plotted online through existing co-operation.
The Manchester United manager Sir Alex Ferguson has lifted his ban on talking to the BBC after seven years, reports the Guardian. His refusal to be interviewed followed a BBC documentary which made allegations against his son, Jason. The Guardian says the announcement followed a meeting between Ferguson and the BBC director general, Mark Thompson, and the director of BBC North, Peter Salmon. It says a source close to the discussions said neither party had apologised but they had agreed to put aside their differences and move on.
After days of Libya dominating, there is a bit more more variety on the front pages of Friday's newspapers. But while only the Guardian leads on Libya, there's still plenty of coverage on the inside pages of other papers, as reported in the BBC's papers review.