Broadway shows shut down as Hurricane Irene strikes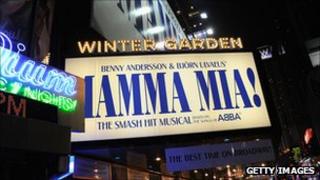 Broadway shows have all been cancelled as New York braces itself for the full force of Hurricane Irene to strike.
All musicals and plays on and off Broadway shut on Saturday.
They included Cirque du Soleil's Zarkana at Radio City Music Hall and War Horse at Lincoln Center Theater.
"The safety and security of theatregoers and employees is everyone's primary concern," said Paul Libin, chairman of the national trade association the Broadway League.
The theatre closures became inevitable after New York officials ordered the city's transit system to shut down.
Refunds or exchanges were being made to disappointed would-be audience members.
The shutdown in the event of an emergency is the first since the blackout of 2003, which affected 50 million people in North America and Canada, caused by the sudden failure of FirstEnergy's Eastlake plant.
This time, the lights going out in theatreland has led to the musical Chicago having to delay becoming Broadway's longest-running American musical.
That milestone was due to be reached on Saturday with the staging of its 6,138th show. It has now to wait until Monday night, at the earliest.
Other venues to close include the off-Broadway complexes 59E59 Theaters and New World Stages, the latter of which is home to Rent, Avenue Q and Million Dollar Quartet.
Organisers of the New York International Fringe Festival, which has been offering almost 200 small shows over the past few weeks, also cancelled all its Saturday and Sunday events.
Ferocious winds from Hurricane Irene have begun to hammer New York, bringing torrential rain and the threat of flooding in the financial district.
The worst of the storm, packing winds up to 75mph (120km/h), is due to hit New York in the next few hours.