US drama The Help polishes off box office competition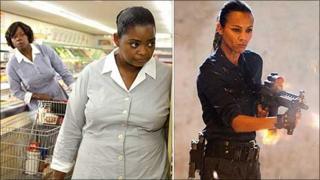 Domestic drama The Help has held off competition to retain the top spot at the US and Canada box office.
The inspirational film about black housekeepers in 1960s Mississippi made $14.3m (£8.7m) in its second weekend, according to studio estimates.
That was enough to see off challenges from action movie Colombiana and horror movie Don't Be Afraid of the Dark.
They opened in second and third place respectively on a weekend that saw ticket sales hit by Hurricane Irene.
The storm forced the closure of cinemas in big markets such as New York and kept moviegoers home along much of the East Coast.
Even without the bad weather, however, pundits had expected business to be slow at the traditionally quiet end of the summer movie season.
Columbia Pictures expressed satisfaction with the $10.3m (£6.3m) Colombiana made between Friday and Sunday.
"The picture is off to a good start, storm or no storm," said Rory Bruer, the company's president of worldwide distribution.
Avatar's Zoe Saldana plays the title role in this story of a child who witnesses her parents' murder in Bogota and grows up to be an assassin seeking revenge.
The Luc Besson production - attacked in some quarters for its depiction of Colombian culture - opens on 9 September in the UK.
Don't Be Afraid of the Dark, starring Katie Holmes and Guy Pearce as the new owners of a haunted house, took $8.7m (£5.3m) in its opening weekend.
That put it two places above another new entry, raucous comedy Our Idiot Brother, which opened at five with estimated takings of $6.6m (£4m).