Mercury Prize 2011: The nominees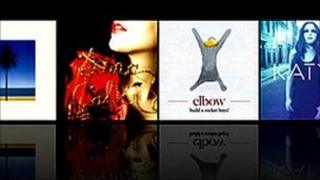 PJ Harvey's album Let England Shake has been named the winner of the 2011 Mercury Music Prize at a ceremony in London.
Twelve albums were nominated for the £20,000 award, from James Blake's sparse electronica to Adele's chart-pulverising blues pop.
In the run-up to the ceremony, BBC 6 Music invited each artist to dissect their record for a series of one-off documentaries.
Here, each artist chooses a key track from their nominated album and explains the inspiration behind it.
Adele - 21
Adele started writing 21 in December 2009, after taking just one week's holiday from promotional duties on her debut, 19.
The album's sound was inspired by her tour bus driver, who supplied her with a constant diet of country music.
"I haven't made a country record," she says, "but I have been inspired by country lyrics and melodies and themes."
The multi-platinum album was trailed in December by the release of Rolling In The Deep.
"Listening to my first album you'd think I was really depressed all the time," says Adele, "so Rolling In The Deep and Rumour Has It are fun songs that got me out of my bad mood when I broke up with my boyfriend, who the album's about.
"It's my reaction to being told I was going to be really bored and lonely if I didn't stay in a relationship that I was miserable in.
"I was really insulted that someone who really knew me would ever suggest that. So it's a song about self-respect."
Watch the video for Rolling In The Deep
Katy B - On a Mission
22-year-old Katy B wrote and recorded her debut album On A Mission over three years at university.
Its a document of late nights, long weekends and romantic liaisons, centred around London's dubstep scene.
She describes the record as a collaboration with producer Geeneus and chart trio Magnetic Man.
A mixture of bass-heavy beats and soulful R&B melodies, Katy says her current single, Witches' Brew, was inspired by an old jazz standard.
"At university, I had to write an essay on different versions of a song, and I chose I Put A Spell On You - the versions by Nina Simone, Screamin' Jay Hawkins and Marilyn Manson.
"I had to write 3,000 words on that, and I really liked the mystery of it. I definitely think that love is similar to magic. It is like someone putting a spell on you.
"When I was writing it I had someone in mind. I was thinking about unrequited love - you want to snap your fingers and they'd be there, doting on you."
Watch the video for Witches' Brew
James Blake - James Blake
A classically-trained pianist who studied popular music at Goldsmiths University, James Blake made his name as a dubstep DJ, producer and remixer.
His album is a different beast, however, consisting of sparse, soulful piano numbers filtered through a disorientating array of synths and effects units.
Many of the songs cycle around a single lyric, which twists and mutates over the course of several minutes.
The Wilhelm Scream is an example - based on the track Where To Turn, originally recorded by Blake's father James Litherland.
"I took the verse and repeated it and built a whole piece around it," explains Blake.
"I had this moment where I felt like it needed to distort and go to a dark place. Somewhere that was really cavernous and fuzzy and warm. When I did that, that's when it became a finished track.
"When I played it to people at first, a lot of them thought it was a bit too much.
"It's kind of like that with all my music, really. It seems like people are generally, at first, slightly averse to it."
Watch the video for The Wilhelm Scream
Anna Calvi - Anna Calvi
Anna Calvi wrote and demo-ed the bulk of her eponymous album in the attic of her parents' house, but recording sessions eventually took place in France.
It was produced by Rob Ellis, a long-term collaborator of PJ Harvey. Calvi says it explores "intimacy, passion and loneliness".
Seductive, glamorous and dramatic, the record is exemplified by former single Desire.
"I want the music to tell the story as much as the lyrics do, almost like film music," says Calvi.
"So for this song, I really wanted there to be a melody that represents desire, that grows and grows as the desire grows.
"At first you hear it just on the harmonium, then the guitar starts playing it. By the end of the song, all of the instruments are singing this melody, as the song gets more and more intense.
King Creosote & Jon Hopkins - Diamond Mine
King Creosote, aka Kenny Anderson, and Jon Hopkins are something of a mismatched pair.
Hopkins, 31, is an influential electronic artist who has remixed the likes of Coldplay and Brian Eno.
Anderson, a scruffy Scot 12 years his senior, is more at home strumming acoustic guitar at his home in Fife.
Their collaboration is described as a "romanticised version of a life lived in a Scottish coastal village", marrying simple folk melodies to atmospheric synth washes and stuttering beats.
Anderson explains how the narrative of John Taylor's Month Away was based on real events.
"John Taylor is a real person," says Anderson.
"One day I came out of my flat to realise there was something happening next door - which I thought was an empty house.
"There was this guy lying out on the road on a black settee that had been burnt.
"It turned out he was a fisherman, and he basically revealed that job to be an absolute nightmare.
"You know, you're away for three or four weeks, and you work 16 hours a day. You think the whole time about being off the boat.
"Basically, he'd got home, got drunk and set his couch on fire.
Elbow - Build A Rocket Boys!
Elbow's fifth album finds 37-year-old Guy Garvey looking back over his life, following the stratospheric success of 2008's Seldom Seen Kid - a former Mercury winner.
He sketches minimalist scenes of suburban life; a big- hearted man focusing on small details: kids standing on the corner, stolen shopping trolleys, the importance of friendship.
Elbow say the recording sessions were the easiest of their career so far.
The first track they committed to tape was Jesus Is A Rochdale Girl.
"When we started the album, we went away to the Isle Of Mull, where we've worked on the last three records," says Guy Garvey.
"It's in the middle of nowhere. We cook together, we hang out together.
"So, we're in Mull and I'm upstairs looking through my journals when the lads start jamming something.
"It was just so stripped back. It put me in mind of being 20 years old, when I'd been in the band for about three years.
"We didn't have any money but I had this wonderful girlfriend who'd come across from Rochdale with stolen food from her parents' restaurant and she'd feed me because I couldn't feed myself.
"The song is very simply a list of details of that time in my life."
Watch Elbow perform Jesus Is A Rochdale Girl
Everything Everything - Man Alive
The skittering, frenetic sound of Everything Everything's debut album has already earned the band a South Bank award for best breakthrough artist.
They describe their sound as "unconventional pop", adding "it's not really radio-friendly".
Songs like Photoshop Handsome and My Kz, Ur Bf are polyrhythmic and multi-layered, held together by singer Jonathan Higgs schizophrenic falsetto.
Despite their avant garde leanings, Higgs revealed a more mainstream inspiration for album track NASA Is On Your Side.
"That was a song I wrote after listening continuously to Michael Jackson's Stranger In Moscow, because it was one of the only CDs we had," he says.
"I really liked the atmosphere - it was kind of funky but it was really slow. I made a song that was similar in mood. So that was the starting point.
"When I took it to the band, it got a bit more 'rock' and we strived very hard in the studio to 'de-rock' it, because we didn't want it to sound like Coldplay.
"We were very happy with it in the end. That demo ended up on the album."
Read more about Everything Everything
Watch Everything Everything perform NASA Is On Your Side
Ghostpoet - Peanut Butter Blues and Melancholy Jam
Obaro Ejimiwe - aka Ghostpoet - describes his debut album as a "snapshot of my life".
The 27-year-old talks about subjects as mundane as KFC and Weetabix, noting: "Other MCs want to talk about crime / But that ain't me."
The main theme, however, is surviving everyday life. "Run away, be a real man and fight another day," he says on album opener Run Run Run.
He told the BBC that Survive It had provoked the strongest response from fans.
"It was one of the older demos that was put up for the album.
"I put myself in the shoes of a guy who, from the first line I wrote down, was 44 years old. He's looking back at his life and thinking 'I should have taken those opportunities when I had a chance'.
"It's one of the only tunes where there's a clear message but it wasn't consciously my decision to do that. I don't want to preach to people. That's not how I want to make music.
"But I guess it's nice to be nice, and I like how that tune has travelled."
Watch the video for Survive It
PJ Harvey - Let England Shake
PJ Harvey was the first female Mercury winner in September 2001 with Stories from the City, Stories from the Sea.
This, her eighth album, explores England in conflict. Harvey spent months absorbing first-hand accounts of war to research the record.
The resulting lyrics are often brutal - combatants are pictured "falling like lumps of meat / blown and shot out beyond belief / arms and legs in the trees" - but there is a keening beauty to the music that tempers the more visceral moments.
Hanging In The Wire, with its references to "no man's land" and the "far off symphony of guns", was inspired by the poets of the First World War.
"I knew I had to make the words work irrespective of me being associated with them," says Harvey. "There had to be a narrative, there had to be an interesting story being told."
"I didn't feel confident enough to tackle enormous subjects like conflict in one's nation before, because I didn't feel I had the skill to do so... And I didn't know if I would this time.
"It took four years of writing before I ended up with the songs on this record, and I had to discard a huge amount of material.
Watch a video of Hanging In The Wire
Metronomy - The English Riviera
Devon's tourist board must be over-the-moon about Metronomy's third album, a tribute to England's very own Gold Coast from local lad Joseph Mount.
Mount, 29, paints his childhood stomping grounds of Torbay and Totnes as sun-kissed havens of effortless cool.
Accordingly, the band ditched the spiky synths of their previous albums for a more relaxed sound, underpinned by the sly, funky basslines of new recruit Gbenga Adelekan.
Mount says album track Some Written marked a breakthrough in his writing.
"I found myself one day at the keyboard, playing a chord sequence and laughing to myself saying, 'ha ha ha, this sounds like Billy Joel!'
"But then I realised I actually quite liked it, so I decided to take this idea and run with it.
"The only thing that ever stops you from doing that is thinking you've got this particular person that you're trying to make music for.
"So I got into the idea of making a jazzy, bossa nova song. It was quite a liberating experience."
Gwilym Simcock - Good Days at Schloss Elmau
Thirty-year-old pianist Gwilym Simcock studied jazz at the Royal Academy of Music in London, and has played with the likes of Dave Holland, Lee Konitz and Bobby McFerrin.
Good Days At Schloss Elmau is his first album as a solo performer, having previously performed as part of a trio, a quintet, a sextet and a big band.
The album was named after the Bavarian resort where it was recorded, which Simcock describes as "an amazing squillion star hotel and cultural retreat".
While there, he found inspiration in unlikely sources, as on the track Mezzotint.
"Mezzotint is a type of artform where you take a sheet of metal and you punch thousands and thousands of tiny holes in it using special tools.
"Then you fill all these holes with ink and you print a picture.
"It ends up as one of those things where you can be very close and all you can see is lots and lots of dots, but when you stand far away you might be able to see a face.
"I got very interested in that and thought, 'how can I represent that in musical form?'
"So the piece is built up on a sonic bed of lots of very quiet notes, then some of those notes are picked out to make the tune and the bassline."
Read more about Gwilym Simcock
Tinie Tempah - Disc-Overy
Recorded in London and Sweden, Tinie Tempah's debut album has already spawned seven top 40 singles, including two number ones.
His blend of cheeky wordplay and dub-inspired techno has also reached across the Atlantic, where Written In The Stars sold more than a million copies.
As the album was released last October, the 22-year-old London-born rapper told the BBC he would be judged by its contents "for the rest of my life".
The song Wonderman, released as a single in February, is a bewildered celebration of his rise to fame.
"I feel like a new and improved person," he said.
"I've made the first step into fulfilling my dreams. It's almost like something divine has happened to me, hence the imagery in the lyrics. It's a big deal.
"When I say in the lyrics that 'I traded friends for fans', it doesn't mean that I've stopped hanging around with my friends.
"It means that my friends would now listen to my album the way they'd listen to Jay-Z and Kanye.
"And that's all I've ever wanted."
BBC 6 Music will have coverage of the Mercury Prize throughout the day on 6 September. You can listen to all 12 artist documentaries on the 6 music website.