Phone hacking: Journalists' names won't be disclosed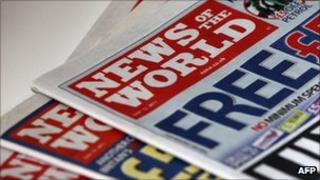 This round-up of Wednesday's main media stories focuses on the latest developments in the phone-hacking scandal.
A court has ruled that the names of News of the World journalists who ordered Glen Mulcaire to intercept mobile phone messages can not be made public, reports the Guardian.
The private investigator passed the details to Steve Coogan on Friday following a high court order that the actor obtained earlier this year.
In an other angle on the hacking story, BBC News says the Electoral Commision won't be holding an investigation into the payments received by former News of the World editor Andy Coulson from News International after he'd starting working for the Conservative Party.
Labour MP Tom Watson had written to the commission asking if this amounted to a "political donation" but it has ruled out any "further action", saying there was no evidence that the payments related to his political activity with the Conservative party.
According to the Daily Telegraph, News International boss Rupert Murdoch and his son James will be questioned about the scandal under oath in the High Court.
The paper's Whitehall editor Christopher Hope reports: "Lord Justice Leveson will hold his inquiry at the Royal Courts of Justice. David Cameron and other senior politicians are also likely to be questioned over their links to News International, the parent company of the News of the World."
He adds that Lord Justice Leveson is expected to call for the proceedings to be broadcast live.
Elsewhere, Richard Desmond's decision to purchase of Celebrity Big Brother appears to have paid off as far as ratings go.
The Guardian says the broadcaster beat rivals Channel 4 and ITV1 during Sunday night's peak time: "Channel 5 also beat Channel 4 in peak time on Friday and Saturday nights. However, normal service was resumed on Monday night, with Channel 5 back in its usual fifth place among the five terrestrial networks."
After weeks of Libya dominating the newspapers' front pages, they are now focusing on domestic issues such as the row over the future of Britain's banks, as reported in the BBC papers review.