Richard Linklater 'to direct Karl Rove movie'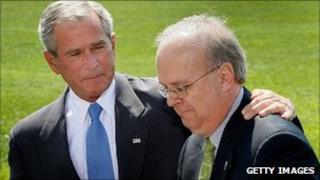 Before Sunrise director Richard Linklater is making a film about Karl Rove, a former aide to ex-US president George W Bush, according to reports.
Mr Rove was one of Mr Bush's key advisers in the White House, leading him to be nicknamed "Bush's Brain".
The film, College Republicans, will tell the story of his entry into politics, US website TheWrap said.
Its report said Rove would be played by Paul Dano, previously seen in Little Miss Sunshine and There Will Be Blood.
Linklater is known for such comedies and dramas as Slacker, Dazed and Confused, School Of Rock and Waking Life.
Rove, who is credited with masterminding George W Bush's presidential campaigns, was at the heart of some of the administration's biggest decisions and controversies.
TheWrap said the film would focus on Rove's years at the University of Utah, when he was accused of using underhand tactics against Democrats while running a national organisation for Republican-supporting college students.
As a student he invited Chicago vagrants to turn up at a reception for a Democrat state candidate, promising them free beer and food - a "youthful prank" he later said he regretted.
He later campaigned to become chairman of the College Republican National Committee, which led to further allegations of dirty tricks.
He was investigated by Texas congressman and future President George Bush Sr, who exonerated him and then hired him as an assistant.
The movie will begin shooting in Austin, Texas in late November, according to TheWrap.