Hangover Part II stuntman sues over injury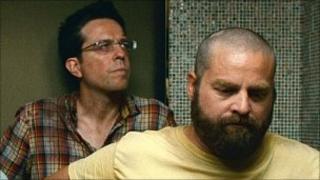 An Australian stuntman who was left with brain damage when a car chase went wrong while filming The Hangover Part II is suing Warner Bros film studios.
Scott McLean was in a medically induced coma for two months after a high-speed, head-on crash on the set in Thailand.
Now living in a rehabilitation clinic, McLean is seeking unspecified financial damages for his injuries.
Warner Bros said it had been "working closely with Scott and his family throughout his treatment".
The stuntman, who worked as actor Ed Helms' double in the film, was a passenger in a car that was hit by another vehicle that skidded out of control.
According to legal papers filed in Los Angeles, McLean alleges stunt coordinator Russell Solberg ordered the driver of the car to increase his speed while the stunt was in progress.
The car, he claims, accelerated "significantly to a speed unsafe for the stunt, thus resulting in a major collision".
'Emotional distress'
McLean said he suffered permanent brain and physical injuries and has "ongoing seizures, speech impediments, physical impediments and brain trauma" due to the crash.
The stuntman is suing Solberg, second unit director Brian Smerz and Warner Bros for negligence.
He is also seeking compensation for his caretaker Raelene Chapman, whom he said had suffered "emotional distress" due to the experience.
In a statement, Warner Bros said the company had been "shocked and saddened" by the accident.
"We have offered continual support since the accident occurred and we are working together to try and resolve any outstanding issues."
The Hangover Part II It has made nearly $600m (£371m) worldwide since its release in May.
Starring Helms, Zach Galifianakis and Bradley Cooper, it follows a group of friends as they piece together what happened during a drunken night out in Bangkok.