Fund established for Pukkelpop festival victims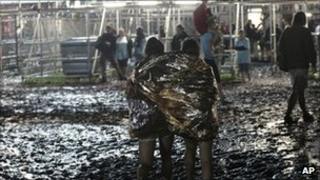 Organisers of Belgium's Pukkelpop festival have announced the creation of a fund for families of people killed in a violent storm at the event.
Staging collapsed and giant screens fell when the storm struck Hasselt, eastern Belgium last month.
Four people died and more than 70 were injured, prompting the immediate cancellation of the three-day event.
Organisers vowed that "the full amount of every donation, large or small, will go to the victims".
A statement on their website announced the creation of the Steunfonds Slachtoffers Pukkelpopstorm (Support Fund for the Victims of the Pukkelpop Storm).
It urged the public "to support the victims and their surviving loved ones by contributing" to the fund.
While stressing the independent status of the fund, organisers asserted that they would give the foundation every practical support.
"Everyone taking part in the establishment and operation of the fund - now and in the future - is doing so from a sense of social engagement on an unpaid volunteer basis," the statement continued.
All four victims of the storm, which struck on 18 August, were Belgian.
Festival organiser Chokri Mahassine said in a statement released immediately after the event: "Pukkelpop is in deep mourning."
About 60,000 people were believed to be at the event, which is one of Europe's largest outdoor festivals.
Headline acts this year were set to include Eminem, the Foo Fighters and the Ting Tings.
But in just 10 minutes, the storm turned the festival site, some 50 miles (80km) east of Brussels, into a scene of chaos, bringing down the Chateau stage.
In a press conference, Hasselt officials and festival organisers described the weather conditions as exceptional, and said weather forecasters in the area had not predicted a storm of such intensity.