Stolen Rembrandt sketch held by police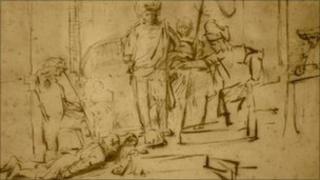 Police investigators in Los Angeles are refusing to return a stolen Rembrandt sketch to its owners unless they prove they own it and that it is a Rembrandt.
The piece, entitled The Judgement, was taken from an exhibition in Marina del Rey in August and recovered a few days later from a church in Encino.
According the Los Angeles Times, the piece's authenticity is in question.
The authorities also say San Francisco gallery The Linearis Institute has yet to provide proof of ownership.
It is the latest development in a widely-reported case that began when the sketch, valued at $250,000 (£154,152), was reported stolen from a Californian hotel on 13 August.
The hotel was the venue for an exhibition staged by The Linearis Institute.
The piece was recovered soon afterwards at a church about 20 miles (32 km) away, following a tip from an anonymous caller.
Investigators were unsure of the drawing's authenticity and have been unable to verify it, a spokesman for the Los Angeles County Sheriff's Department said.
A lawyer for The Linearis Institute told the LA Times he may seek a court order to have it returned.