Protests hit Israeli Prom concerts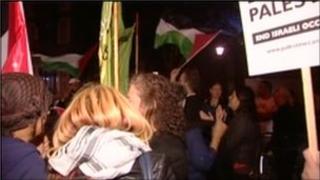 This round-up of Friday's main media stories reports on a protest at the Proms.
Protesters have disrupted the Israel Philharmonic Orchestra's BBC Proms concert at London's Royal Albert Hall, reports BBC News. It says several demonstrators in the hall shouted as Zubin Mehta stood to conduct Bruch's violin concerto. Many other audience members booed in response. BBC Radio 3 said it had to interrupt its live broadcast twice "as a result of sustained audience disturbance".
The Guardian reports that "police officers could be prevented from talking freely to the media under tough new proposals being considered in two major inquiries." It says one inquiry ordered by the home secretary began this week to address "alleged corruption and abuse of power" in police relationships with the media. A second, led by Elizabeth Filkin, the former parliamentary commissioner for standards, aims to draw up a framework for how officers operate in their contact with journalists.
The Daily Telegraph says "BBC staff reluctantly heading to Salford have been given another reason to resent the corporation's move north" - after their office was voted the ugliest new building in Britain." A panel of architecture critics named the MediaCityUK development as winner of Building Design magazine's Carbuncle Cup. Critic Jonathan Glancy is quoted as saying "how uncreative can a 'Creative Quarter' be? And which truly creative person would ever want to work in such a place?"
The Building Design report says MediaCityUK gives the overriding sense "of extreme anxiety on the part of the architects".
There's widespread coverage of the announcement by the bookshop Waterstone's that it's dropping its three-for-two offer after ten years. The Independent says: "To some, it devalued the printed word, to others, it provided much-needed value during tough economic times." The paper says it is "a bold move by its recently appointed managing director, the independent bookseller James Daunt."
Judith Woods in the Daily Telegraph welcomes this evening's return of Outnumbered, "the BBC TV comedy that encapsulates the family angst of a generation of overstretched, bewildered middle-class parents". She writes: "Every so often a programme comes along that deftly sums up the essence of a generation. In the Eighties we were transfixed by Thirtysomething. The Nineties saw us vigorously nodding 'That's me!' in recognition at Cold Feet and the Noughties brought us Outnumbered."
Several papers focus on the fall-out of the cuts to the Armed Forces, after nearly 2,000 RAF and Army personnel were told they were being made redundant on Thursday, as reported in the BBC's newspaper review.